We're going to tell you how to get real Instagram followers fast, but before we do let's discuss why this matters in the first place. Instagram has been and will continue to be the king of social media platforms when it comes to marketing for brands and individuals. Instagram currently has 800 million active users according to
statista.com
beating out both Facebook and Snapchat, it's biggest competitors. Each day users post over 100 million images! 
If that isn't enough to influence every brand on earth to start utilizing Instagram as a main marketing focus this year, then we don't know what is. In comparison to it's big brother Facebook, Instagram is blowing them out of the water with 58 times more engagement overall. We're not saying it's game over for Facebook as they currently own Instagram and market to a different demographic, but it's quite clear where things are headed.
There's no denying it, Instagram is still the clear pack leader going into 2018. Facebook being the owner of Instagram is still the source when it comes to creating and managing advertisements so don't expect to say goodbye to them anytime soon. In addition, many Facebook ads still perform better than Instagram surprisingly, just depends on the product and demographic of the consumer.
This brings us to the elephant in the room, the one everyone first thought about and was too scared to ask when Instagram first started, the ever popular question: How do I get (Real!) Instagram followers fast? … Or at all for that matter.
We are going to bring you into the inner circle when it comes to Instagram followers, this article will discuss in detail the steps you need to take as a brand to not only gain Instagram followers, but real Instagram followers and most importantly, targeted Instagram followers. Because, let's get honest, who cares if someone follows you if you can't market to them and make a sale.
1. Create engaging content, with a real photographer
First, let's start with content. Content is king, we say this all the time here at True North Social and that's because we can attempt to get followers all day but if your content is lacking then this process is going to take more time and cost more money. Thus, a recipe for failure.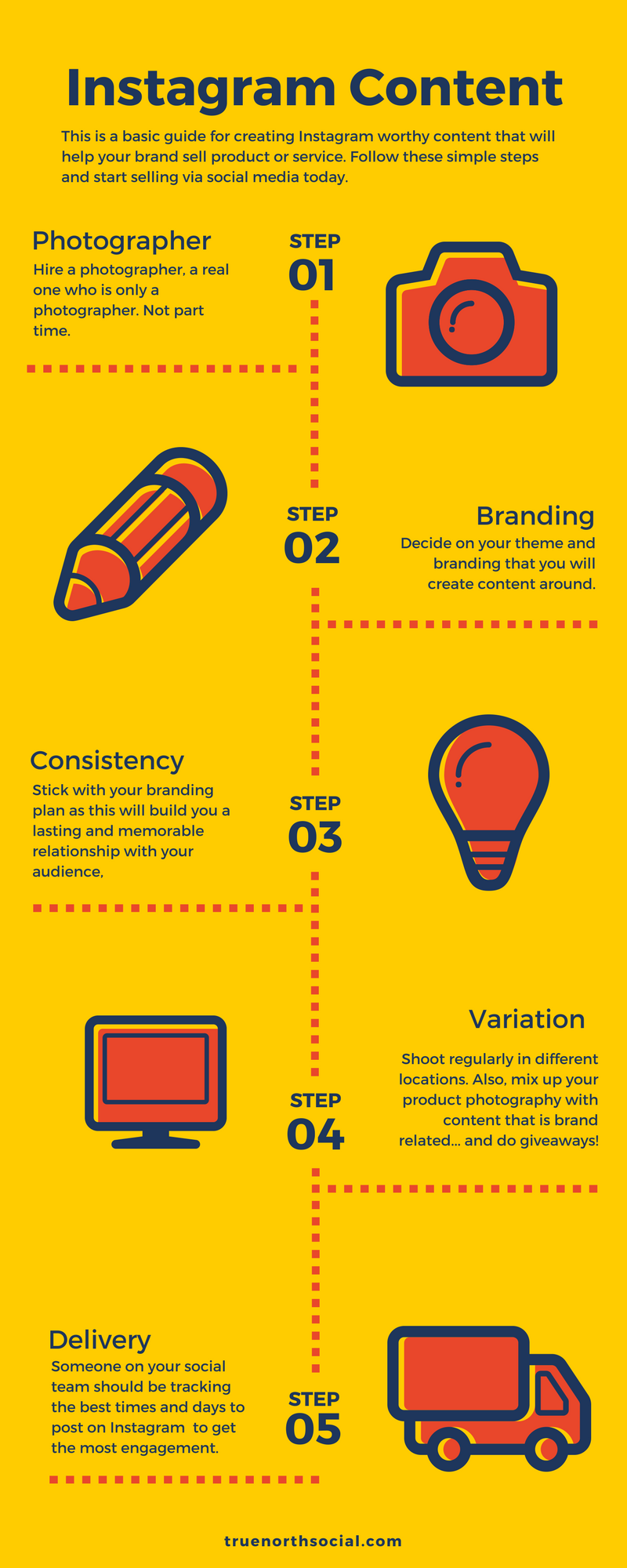 Above we outline the 5 steps to creating Instagram content that will help build and solidify your brand on Instagram, all while promoting sales. Step 1, Hire a photographer, a real one who is only a photographer. Not part time. Step 2, Decide on your theme and branding that you will create content around. Step 3, Stick with your branding plan as this will build you a lasting and memorable relationship with your audience. Step 4, Shoot regularly in different locations. Also, mix up your product photography with content that is brand related… and do giveaways!  Step 5, Someone on your social team should be tracking the best times and days to post on Instagram  to get the most engagement.
2.  Use large sets of Hashtags to reach a broad yet also targeted audience.
The best tactic here is to find a competitor already using hashtags that are relevant to your brand, product or service. Then double check the search results for those hashtags, you shouldn't use any hashtags that have less than 50,000 searches and you also shouldn't use more than 5 hashtags that have over 5 million searches as both of these will lead to wishy washy results. Below is a great example of
Airbnb
utilizing a "set" of hashtags in the first comment on their own post.
3.  Comment on conversations that have a large amount of contributors.
There are just a few simple rules when it comes to this one. First off, don't go marketing yourself on a direct competitor by hijacking their comment section, this is a bad look. Secondly, when you do find a conversation that makes sense for you to join in on, make sure you provide either something funny (backed by a friend who confirm's it's truly funny) OR it should be informative.
Above you'll see a great example of people relating to each other and carrying on a decent conversation about a cool post by
@mindbodygreen
. If your brand were a yoga or meditation company you could jump in and say something like "someone is in the zone #thisiszen"
4.  Influencer marketing is the future of all marketing
Usually we would suggest hiring an agency to help you compile a list of potential influencers and reach out to them for pricing. You can do trades for posts but it's not recommended, you should budget 1k or 2k to influencer promotion. It will pay off eventually, but this process needs to be done consistently month after month with the same influencers to build trust. Here is a great example of a company who built their entire business from influencer marketing;
@sugarbearhair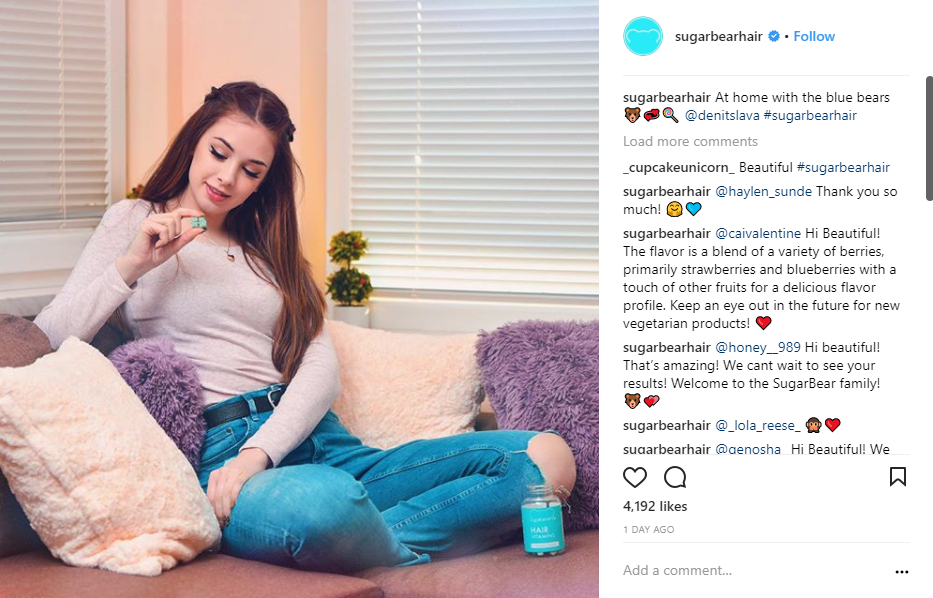 5.  Develop your own Instagram style.
Branding, branding, branding. A huge problem on Instagram right now is that so many brands look similar, which is why #4 about influencers is sooo important. But even more than that is that you create a look and feel for your brand that is unique to you. Whether that be coloring, copy writing or general photographic style. Research, plan and decide on this ASAP. One brand who does a fantastic job when it comes to branding is
@headspace
. Creating original engaging is one of the most important things to keep in mind when it comes to garnering real targeted Instagram followers. While you need to keep in mind other tactics, creating original content geared towards your target audience is the game changer.
6.  Utilize any and all tools at your disposal.
So, you wanted the secret sauce huh? Well don't worry we'll still tell you want that is; hacking. Well not really hacking, but kind of. Many agencies will utilize programs that automatically follow, unfollow, like, comment. If used correctly you should be able to gain between 1,000 and 3,000 new targeted followers per month with that action alone. Yup, you heard us right. Many naysayers will frown on this tactic, but how in the world can you frown on 3k followers per month. But if you are going to try this on your own, don't bother, you need an expert to do this properly or you will make your account look ridiculous.
Check out
more big trends in local social marketing here
.
7. Instagram Advertising (Facebook Ads).
Instagram is owned by Facebook and in order to run ads on Instagram you need to do that through Facebook. This is not a negative, the dashboard for Facebook Ads is absolutely amazing. We're talking about being able to target consumers who like your competitors, who have recently purchased products from them and who have buying behaviors that make them likely to buy your product or service. Consider hiring a freelancer or asking your social media agency about this, as you can easily waste lots of money if not done properly.
How do I get (Real!) Instagram followers fast?  [Summary]
To get more Instagram followers do the following things:
Create engaging content, with a real photographer.

Use large sets of Hashtags to reach a broad yet also targeted audience.

Comment on conversations that have a large amount of contributors.

Influencer marketing is the future of all marketing

Develop your own Instagram style.

Utilize any and all tools at your disposal.

Instagram Advertising (Facebook Ads).