With more and more people choosing to buy online these days, the ecommerce industry is absolutely booming.
It's almost unheard of for major retailers not to have an option for buying online, and more online-only retailers are popping up all the time.
This is fantastic news for consumers and social media users who have more options and more convenience than ever before when it comes to buying almost everything. But for ecommerce retailers, it means an increasingly competitive market.
This is why social media has become such an invaluable tool for the ecommerce industry. Whether you plan to hire a social media marketing agency for ecommerce or go the DIY route, you need to a establish a game plan.
Taking advantage of known strategies such as PPC and SEO are excellent ways to improve your visibility online and to reach new customers. But creating a social media strategy to reach your potential customers is a whole other ballgame, that can be even more effective when it comes to bringing traffic to your site.
We're going to go over social media for ecommerce, touching on how to use it, and which social platforms are best for your business.
Why use social media for ecommerce?
Ecommerce stores can use social media accounts to reach a number of goals.
From building brand awareness, to gaining online followers, and increasing online sales, there are numerous companies that use their social media presence to make a name for their brand online.
The Benefits of using social media for ecommerce
There are several benefits to using social media for ecommerce businesses. Some of these include:
To build brand awareness
The majority of adults of all ages who are also internet users are on social media. Because of this, almost every business can benefit from social media marketing on social platforms such as Instagram, Facebook, Twitter, and more recently, TikTok.
This rings true for businesses in all industries, but especially for those in ecommerce.
Ability to reach your target audience where they spend a lot of time
While making sure your site is optimized for running PPC campaigns and search engines is definitely important, by maintaining an active presence on social media, you will be able to reach internet users on their go-to online locations.
The ability to casually engage with your audience
Social media platforms allow you to engage with your audience in a much more informal and authentic way than any other method of advertising, making it easy for customers to be able to communicate about products they may be interested in.
Expand your brand's presence through current customers
It's not uncommon for customers who love a product to talk about it to friends and family on social media. That's free advertising!
How does an ecommerce business get the most out of social media?
A successful presence on social media for ecommerce brands requires a good strategy, and the use of tools such as a social media scheduler, and reporting/analytic tools.
Most successful social media strategies will lay out how your business plans to market and advertise on social media platforms, as well as guidelines for engaging with followers.
How to get the most value from eCommerce social media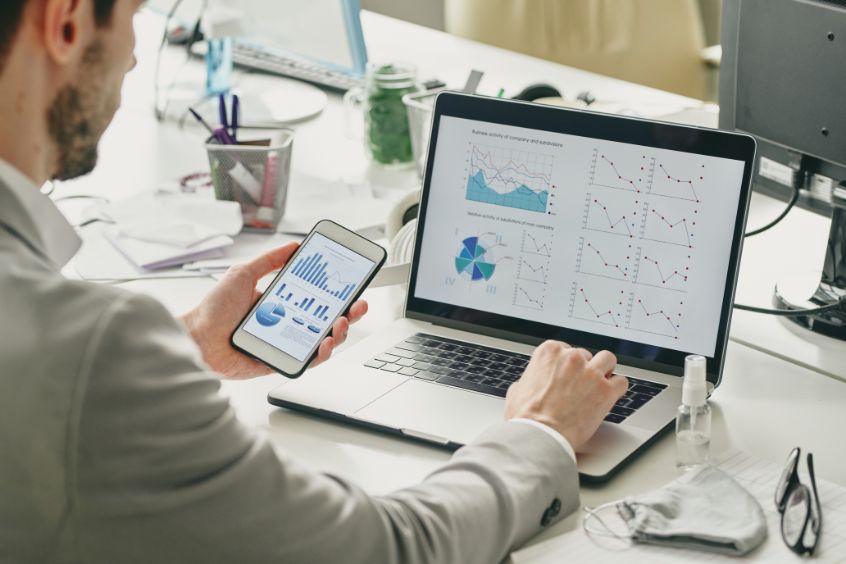 When you decide to dedicate the time and resources it takes to develop a social media marketing and advertising plan for an eCommerce website, you want to make it count.
Below are 5 tips you can use to help get the most out of your presence on social media sites in order to help you increase your ROI.
Define your audience and advertise on the social media platforms where they are most often found.
Make sure you are setting aside time each day to engage with users. This includes replying to comments and direct messages, answering questions, as well as checking and responding to reviews.
Increase your social media engagement rates by posting high-quality content – both photos and videos.
Boost or promote posts on social media platforms such as Facebook and Instagram to increase views, engagement, and conversions.
Partner with influencers for a cost-effective way to reach your target audience.
The Best Social Media Channels for eCommerce
Thankfully, when it comes to getting started on social media, it's easy and free.
However, before diving in and creating accounts on each platform, you'll want to look at your target audience and decide which social channels would be best at reaching them.
It's better to start off slow, only having a presence on a couple of social media channels at first, so you can perfect your marketing strategy.
Here are some tips for the most popular social media networks for eCommerce:
1. Facebook
Facebook is one of the best places to start social commerce because it is one of the top social media platforms.
With an average of 2.8 billion active users, you can rest assured that your target audience is here. The average time spent on Facebook each day is about 40 minutes, meaning these users are scrolling through their feed *which could potentially feature you*
Creating a business page for your ecommerce site is the first step in gaining momentum on Facebook. You'll be able to start sharing photos of your products, repost user-generated content, promotions, or sales, as well as links to your site, and basically anything else you want your followers to see.
Visual content always performs better on Facebook than text-only posts, so you'll want to make sure you are including images with your social media posts.
Facebook also has a stellar ad system, allowing you to run ad campaigns that are highly targeted to your audience. You can target users based on age, gender, location, education, interests, etc. So if you can set aside some of your marketing budget for advertising, you'll be able to easily reach new customers.
2. Twitter
Twitter is another great option for ecommerce companies who want to break into social media. While recently Twitter has become more popular in the political realm, it's still a great platform for businesses looking to feature their products.
Promoting sales and sharing information about your products and brand with links will help drive traffic to your site. Twitter is also popular for engagement between brands and their customers. It's a fantastic tool in social commerce for customer service, and for answering questions.
When you respond to users in a timely and professional manner, you show that you care about your customers. Twitter is great for this and helps to build your reputation with customers who are in various stages of the customer journey whether they are potential customers or existing customers.
Twitter also allows you to run ad campaigns that target audiences based on other users they follow, and keywords found in their tweets. So if you are looking to branch out and try a new paid advertising platform, Twitter may be a good place to start.
3. Instagram
Instagram is a photo-sharing app, which makes it ideal for ecommerce brands with physical products. And because it's part of Meta, it has access to Facebook's advertising tools.
Instagram Stories and shoppable posts are great features for making your content more interactive for your customers, and there are several strategies you can use to take advantage of all the platform has to offer to increase your followers, engagement, and conversions.
4.TikTok
TikTok may not be a platform that immediately comes to mind when talking about social media for ecommerce. But because this platform is catered to a younger audience, and is still not widely used by marketers, it can be a great piece of the puzzle when it comes to your presence on social media.
If you decide to add TikTok to your marketing strategy, you can shout it out on other platforms you may be more active on to let customers know how to find you. TikTok makes it easy to post fun and fresh content to allow your followers a different look at your brand.
Increasing Sales with eCommerce social media marketing
As with any business in the retail industry, your goal is to get more sales every day. While there are many options when it comes to digital marketing that will help you reach this goal, social media is the only one that can promise to deliver both new and repeat customers. It's an essential tool in today's world.