We all know that social media is ever-changing. Navigating Instagram's platform is different now than it was even months ago.
This means that your tried and true methods of Instagram marketing may not be cutting it anymore.
Instagram has become increasingly competitive among brands in recent times. It seems like almost everyone has caught on to how powerful Instagram marketing is for businesses of all sizes and industries.
That's why it quite literally pays for brands to have a diverse set of Instagram marketing tactics that they use to entice their audience.
We'll go over a few ideas and Instagram marketing tips and break down how to market your business on Instagram, even in a competitive market.
Let's get started!
13 Tactics to Get Your Business Noticed on Instagram
Produce more content
When it comes to getting noticed, it should be a no-brainer that in order to be visible, you need to create content for your Instagram page.
There are so many types of content you can utilize on your business account to grab the attention of users and increase brand awareness.
Tagged photos from your customers, reels, memes, graphics, etc can all make for a good Instagram post. There are honestly so many to list.
In order to decide what works best for you when it comes to your own Instagram strategy, you'll need to do some experimenting. That means you'll need to increase your content production on your Instagram business account to make sure you are posting frequently.
The best practice when it comes to the frequency of posting on Instagram is to post once a day. Some major brands like H&M will even post to their Instagram account up to three times per day.
While your content production increase, you'll want to pay attention to the results of your posts on your Instagram account so you can figure out the best times for you to post in order to reach more of your target audience.
This is just one of the many reasons why Instagram Stories are so valuable.
Instagram Stories allow you to "skip the line" when it comes to being front and center on your target audience's Instagram feed.
As an added bonus, with stories, you can post as much as you want without fear of spamming your Instagram followers.
The number of Instagram users increases all the time, and the speed at which the platform moves has increased dramatically over the years. So the key takeaway from this is that if you want to keep up, you'll need to put in the work.
Creating content that your audience will love can certainly be work, so make sure you have a good strategy in place to do so.
Let's move right along to see what that Instagram marketing strategy should include!
Cross-promoting your Instagram post to other networks
You're going to be putting a lot of effort into your feed, so why not make sure that you aren't limiting your stellar content on your Instagram account to just one platform?
You can maximize the reach of your content simply by cross-posting your Instagram posts to Facebook and Twitter, thereby increasing your ROI all out of your Instagram account.
Bear in mind, however, that while cross-promotion is a great way to increase visibility and sales throughout multiple platforms, each social network has its own set of rules and best practices.
For example, Instagram posts will see numerous hashtags, while Facebook relies more on descriptions for photos posted on the platform.
This may sound time-consuming, but it doesn't have to be.
A little research and alteration goes a long way and really doesn't have to take a lot of time to do.
You can make it even easier on yourself by using scheduling and publishing tools to schedule posts for your Instagram page as well, allowing you a bit of time to perfectly craft your content for your audience.
Make sure your content is focused on people
While Instagram is undoubtedly a great place for businesses to make sales, at its root, it's a platform for sharing experiences.
Photos of people generally garner the most engagement, so keep this in mind when creating your own content.
Real people in real-world settings using your products goes a long way in allowing customers to imagine themselves using your product.
It's a much gentler, and more effective way to market your products, than an in-your-face product shot that screams "Buy me!"
Just to re-iterate, this is exactly why user-generated content is an absolute must for your business. Not only do people LOVE when a brand features them on their page, but it shows others that people actually value your products, AND encourages other users to post their own experience with your brand so they can be featured as well! Cue "The Circle of Life"
Don't look just at your tagged photos for user-generated content, you can also have a specialized hashtag that customers can use to feature your products. We'll go over that next.
Industry and Branded hashtags
Lots of brands use their own hashtags to encourage their fans to share posts to their feed that promote the brand.
Aside from encouraging users to promote your branded hashtags, you should also promote your content to Instagram using general hashtags that speak to your community. Industry-specific hashtags will make your posts searchable by users who use these hashtags to find new accounts they may be interested in.
Tag locations, Instagram followers, and brand whenever possible
A surprisingly effective Instagram marketing strategy in promoting your Instagram account is tagging.
And we don't mean just hashtags.
You can tag relevant brands and accounts in your Instagram posts and stories in hopes that you will receive a shout-out as well.
As you may know, when an account is tagged in a post, a notification will be sent to the account. By tagging relevant brands, you are subtly encouraging your own promotion.
Also bear in mind that it's not only courteous but also within Instagram's best practices to tag anyone that you may be posting to your own Instagram account.
So let's say you have someone who has shared a photo or video on their own Instagram account and have tagged you with your products, you'll of course want to share this user-generated content as we've gone over above, but it's important to also give them a shout-out and a thank you for taking the time to promote your brand on their own social media.
Chances are they are going to be thrilled that you took the time to notice their content and promote it yourself.
Locations matter as well! For example, if you have a physical location for your business, or you are attending an event, creating a location-specific post will allow you to reach new potential fans and Instagram followers.
Show off your Instagram content on-site
As we've already talked about, showcasing your customers using your product is one of the best ways to advertise to your potential customers.
By seeing your products in a real-world setting, people know that your product is being enjoyed by real people. They can see themselves using and enjoying the product as well.
You can find a lot of brands showing off user-generated content from their customers enjoying their products on their site, and it pays off. Honestly, reviews are great, but couple them with a photo, and you're golden.
With that being said, this circles back to the need to promote your branded hashtag for your Instagram account.
A great way to get your hashtag noticed is to add it to your Instagram bio. It will be front and center to anyone who visits your profile, to encourage them to post their own content to be featured by you.
How will you stand out?
Being creative counts on all platforms, but especially on Instagram.
You can stand out from others on your target audience's Instagram feed with your own theme or niche which will help to inspire content from you and others.
If you aren't sure as to what your own creative trademark should be, that's ok.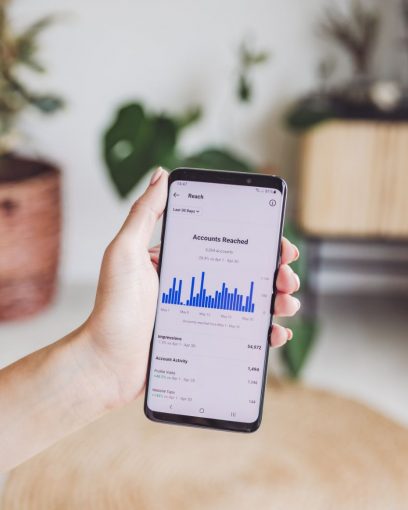 There are plenty of apps for Instagram (like VSCO) that can help you tweak your photos to have a general vibe to them.
When you choose consistent gradients, filters, and colors, your Instagram feed will have a vibe of its own that can be easily spotted as "you".
Extend your reach by working with Influencers
One of the main benefits of Instagram for brands is that you can essentially publish Instagram ads, without creating actual Instagram ads.
This is where influencer marketing comes into play.
To put it simply, influencer marketing is a social media marketing tool that consists of a paid relationship with another account that has a sizable following, and whose audience is authentically engaged.
To be successful with this kind of Instagram marketing, you'll want to choose an influencer whose audience closely resembles your own, or is an audience you want to break into.
While this kind of Instagram marketing still does require you to set aside a budget, just like any other advertising, the difference is that Influencers can be a much better option when it comes to being cost-effective.
You can use Instagram analytics tools to help you find influencers for your brand, or you can try searching through hashtags, and related accounts to find influencers that you can share to your Instagram business profile.
One important tip to keep in mind when selecting influencers for your brand is to look at their engagement. More engagement is always better. Look for quality over quantity. Is the engagement authentic, or does it seem spammy? You want a relationship that is beneficial, so make sure you do your due diligence when vetting your potential partners.
Put some real thought into how your products and promotions are presented
This is a pretty simple tip that may seem straightforward, but we still feel it's important to go over it. Promotions can be an incredibly valuable tool for your business when done well.
When promoting your content on Instagram, you'll want to present it as a must-see.
Instagram loves all things new. Anything you can do to make yourself stand out and hype your product in an exciting way will ultimately pay off.
A good strategy is to objectively look at your post before publishing or scheduling to your Instagram account and be critical. Think, "so what?" Then think about what you can do to be more effective at grabbing attention.
Giveaways and contests
Running a contest or giveaway is an excellent way to grow your following, particularly if you are consistent.
You've probably noticed in your own scrolling that brands who post giveaway-related posts receive exceptional engagement.
And why wouldn't they?
Of course, there are freebie-chasers, but that shouldn't deter you from at the very least testing the waters to see if you want to try giveaways in the long term.
Make sure your profile is optimized for promotion
Looking the part is essential when you are working through how to reach new fans and Instagram followers on the Instagram app.
This applies to brands looking to attract attention with both paid partnerships or ads, and also organically.
So what makes an optimized profile?
When it comes to your Instagram profile as a whole, the good news is that there aren't too many moving pieces to consider.
First, you'll want to consider your name. Make it something easy and relatable to your brand. Don't throw in a bunch of symbols and numbers in there. This makes it much easier for users to search for you.
Secondly, work on the top portion of your profile. A clear profile picture, branded hashtag, AND trackable URL, as well as a compelling Instagram bio, will go a long way in not only making your Instagram account look well put together but also allowing users to know what to expect.
You'll want to also make sure you have your contact information available on your Instagram account, including a phone number and an email for any customer service-related inquiries.
Lastly, as we've discussed before, tagging other businesses and events in your feed, as well stellar photography are going to go a long way in this visual social media platform.
Don't be afraid to experiment with new features, and keep your Instagram Stories active
Instagram Stories is by far one of the most popular features on the social media platform.
Over 500 million users connect with Instagram Stories every day. That's why your business should be taking advantage of Stories as often as possible when promoting on Instagram.
It can be something as simple as user-generated photos and videos, or behind-the-scenes looks at life at your workplace. The best part is because of the casual and fleeting nature of Instagram Stories, you don't need to worry about your stories being perfect.
However, creativity still comes into play when creating an Instagram story. Even a simple photo can be made more exciting and fun by including a sticker with a poll, or question to allow those viewing your Instagram story to engage with you.
Stay active and up to date on the latest features coming out on Instagram. If you are regularly posting as well as watching what your competitors are doing, you'll be in good shape.
Run a paid advertising campaign
Last, but certainly not least, are the potential conversions that come from paid promotions on Instagram.
More and more, social media is becoming a pay-to-play platform for businesses. Because Instagram is owned by Meta, you'll get access to Facebook's incredibly in-depth ad platform, which you'll be able to use to win over new customers when combined with your already stellar content.
The first thing you'll want to do when considering a paid ad campaign is to familiarize yourself with the Instagram ad specs and make sure you have to analytic tools necessary to see how your paid efforts compare to your organic presence on Instagram.
And this is where we leave you! We went over a lot of information on how to best market your business on Instagram, and we hope that you learned something new and will implement these Instagram marketing tips in your own endeavors. We can't wait to see what you do!