Are you tired of guessing what will make a search engine fall in love with your site? On-page SEO can sometimes feel like an endless game where someone keeps changing the rules. You might think you've hit a home run, only to find that your page rank declining, so what's the solution? We've compiled this list of the best free SEO tools available today. Try these platforms out and watch your search results start to improve.
You know it's essential to rank well in search results, but so does everyone else. With Google and its competitors being secretive about how they rank sites, it's increasingly difficult to make the right move. It's time to level the playing field with some of these fantastic SEO services.
Our experts have categorized each analysis tool in terms of the functions each performs, so skip ahead to the sections that interest you most first, but check out the other great tools, too.
Analytics
You thought we'd start this off with Google Analytics, didn't you? Google has an excellent suite of tools, but don't count Bing out.
Top features include keyword research tools and thorough reports. Keyword suggestions are usually spot-on, too.
Google may be master of the search engine universe, but Microsoft's Bing analytics has steadily gained ground. In the United States, Bing's market share has grown by 15% over the last decade, which makes Bing now second only to Google in the country.

Google Analytics offers a complete suite of useful products, so it's hardly surprising that it's one of the most popular free analytics tools on the market. GAs gives you metrics on how many visitors your site receives, where they come from, how long they stayed, and more. This information helps you to monitor every aspect of your site.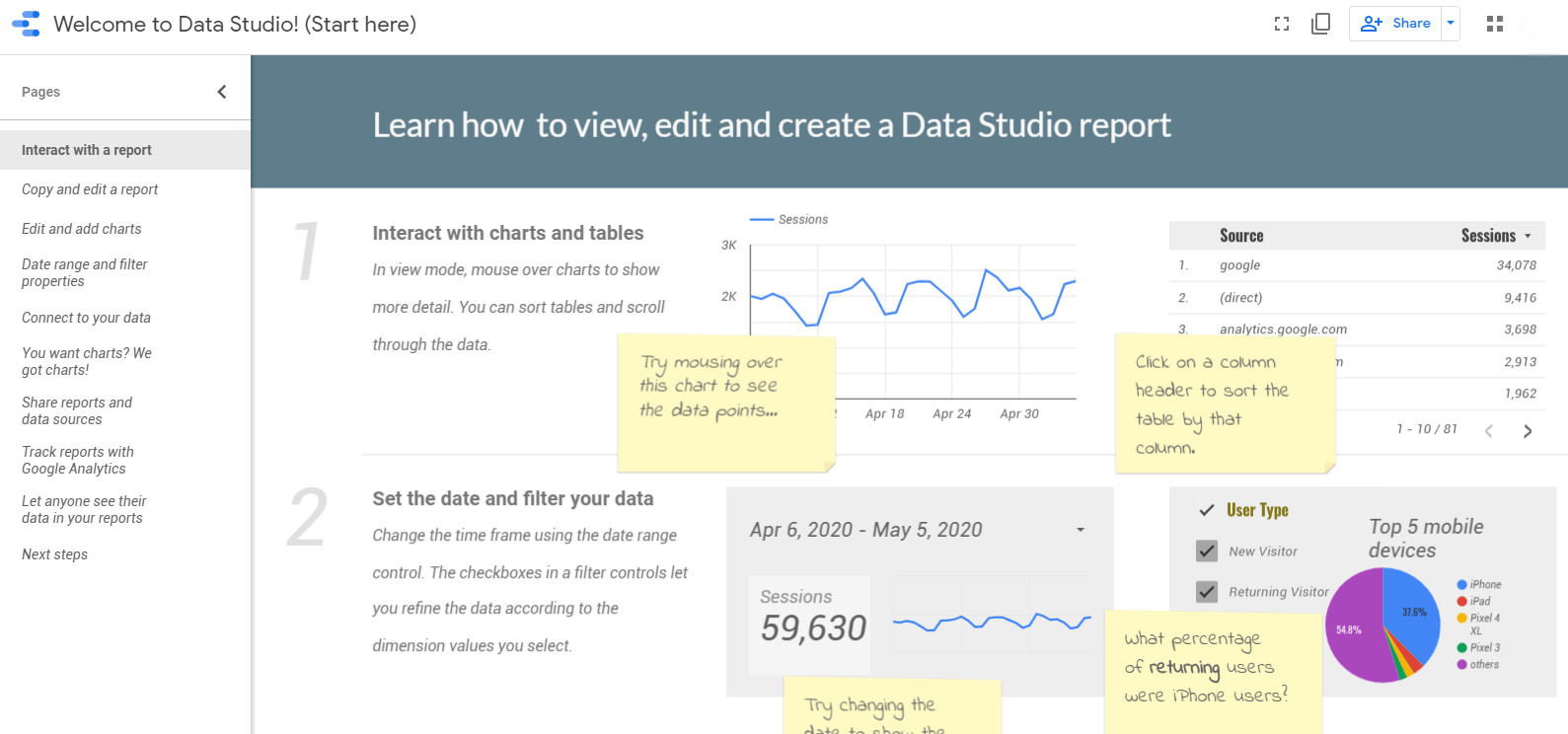 The handy tool merges all your data from Google Search Console and a range of other applications. Its most useful feature allows you to create custom dashboards so that you can monitor the data that you want to use in neatly summarized sections.

You'll appreciate the Chrome extension if you want to see what aspects affected your traffic. It has numerous useful features, like a pop-up note that tells you what might have affected the traffic in that way.
Did the algorithm change? Was there a holiday? These helpful annotations will let you know.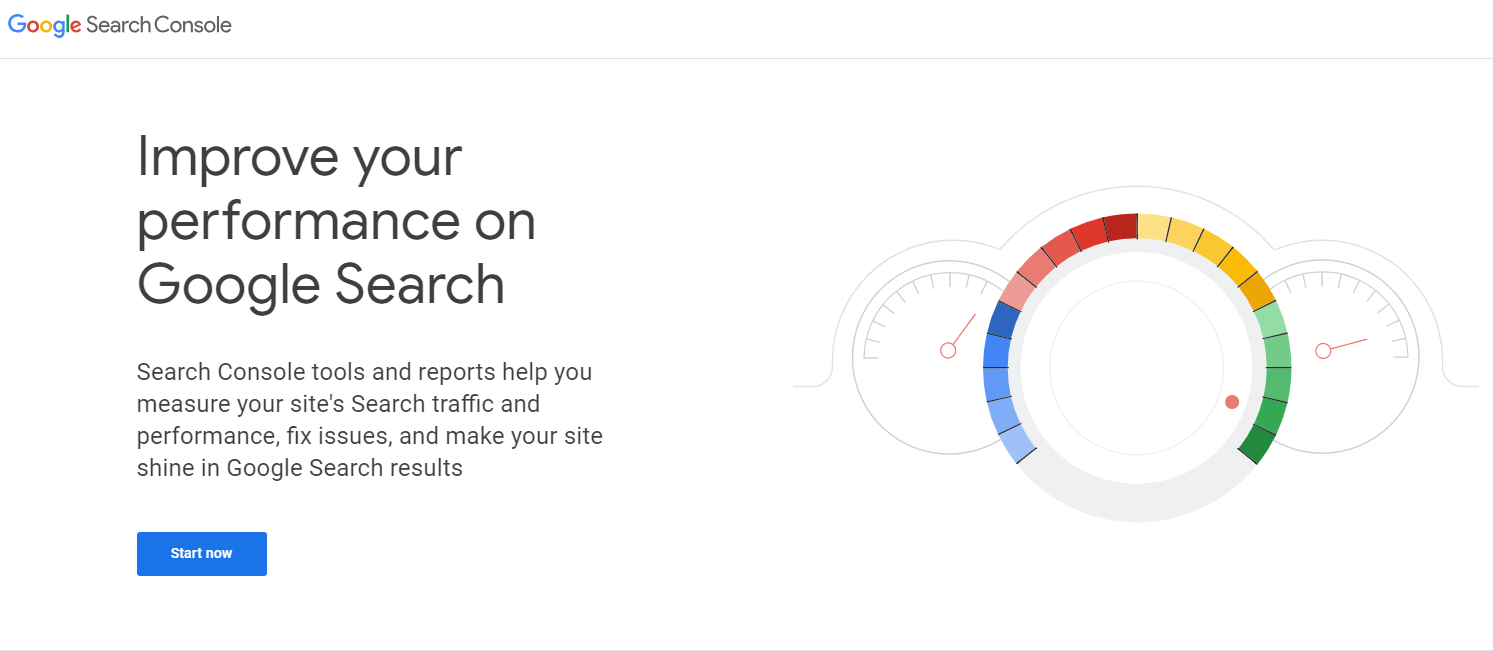 Google's search console is another tool that is ideal for finding the right keywords. It's also one of the best free seo tools for learning more about your page rank and how Google crawls your website.
Optimized Indexing
Another Chrome extension, this tracer is a useful tool for analyzing link metrics in particular. The extension scans a site and lets you see the value of each link. You'll see the page rank of the linked website and redirect page.
It will also alert you to broken links fast. Broken links not only frustrate the visitors that click on them, but they also get you into trouble with search engines. If a webmaster can't keep the links on their site current, what else might they have overlooked?

Screaming Frog is a handy tool since the free version offers you 500 URLs in each crawl (that's plenty for most people). You'll see a range of details for each URL, and the metatag data is fantastic when you need to craft a killer meta description. It may not be one of the best seo tools for crawling a site, but it's definitely one of the best free seo tools for this purpose.
Researching Keywords
Moz was one of the industry pioneers when it came to SEO, and it isn't shy about sharing knowledge either. Your free account allows you ten full search queries monthly, which is more than enough information for most webmasters.
The most useful features include the monthly search volume, the click-through rate, and the keyword difficulty score for your selected keyword tool.
If you're optimizing your webpage for voice search, you'll love this free site. Type in your keywords, and for a range of questions that people ask about on Answer the Public.
If optimal content marketing is part of your link building strategy, the site will provide amazing ideas for content that's needed. If not, use the information to create a more comprehensive "Frequently Asked Questions" page.
Linking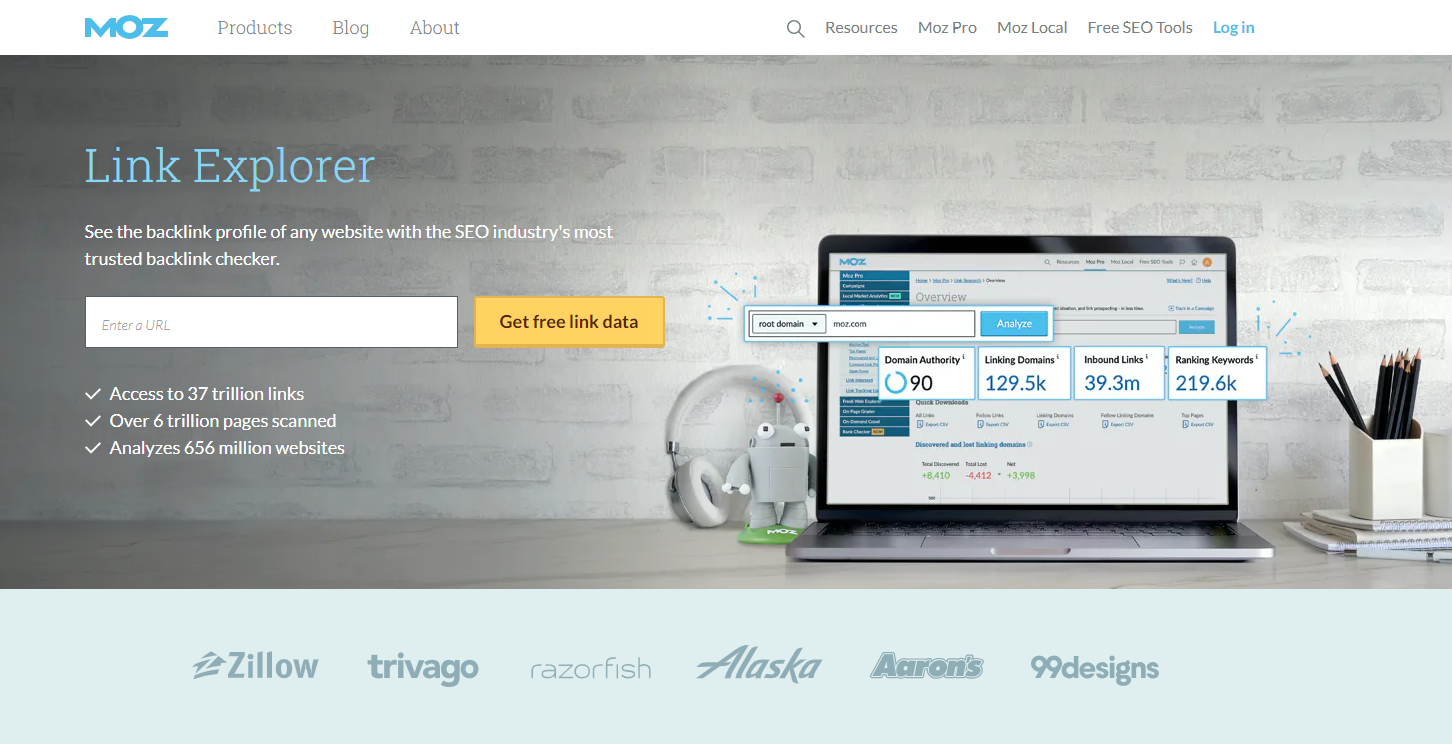 Use this free tool to analyze backlinks. The free version allows you to make ten queries per month.
The range of data is limited, but it's more than enough for the average user to analyze the backlinks of a site.
We were hesitant to add this tool because most people don't use it properly. If used judiciously, though, it can help you clear up your website's image against optimization mistakes, like negative SEO.
Don't be overzealous with the tool and read through Google's guide before you commit to disavowing any links.
Link Miner is a simple extension that allows you to find broken links on a page quickly. It won't impress someone who wants pages of data, but it's unpretentious enough for beginners to use easily.
Ahrefs' free tool whets your appetite for the paid version, but it is a great option for those who have a stretched budget. You can't expect the same features as the paid version, but it will allow you to check up to 100 links, which is a great start. While the free version may be one of the best free seo tools available, the paid version is currently the best tool for backlinks period.
Local SEO
If you're hoping to end up on top of the page for local searches, claim your Google My Business page immediately.
GMB puts you in the driver's seat and allows another opportunity to showcase your business. Without it, you can't answer reviews posted on Google about your business, for example.
Considering that it's a free tool by the 'big daddy' of search engines, it makes sense that maintaining these pages is an integral part of improving your page rank.
Happy clients are usually more than willing to leave a review if it is easy to do. Create a link with this app as a straightforward reference point for clients to add or read reviews.
Search engines check your information across several websites and directories for inconsistencies. If they find blips, your site's credibility comes into question. With this tool, you can quickly check for these yourself and correct any anomalies.
Google's location-based services can be helpful and annoying at the same time. If you're conducting business halfway around the world, and want to check your local rankings, you'll understand the frustration. The tool allows you to check local rankings from anywhere for anywhere.
Do You Need Some Research? 
Is your web content trending? Find out by using this Chrome extension.
It analyzes content to provide estimates of what social share level you can expect. The free version is limited, but still provides a reasonable idea of the top data trends and content for your business online.
Finding email addresses for the people at a company might be tricky, but Hunter aids you in getting in touch with the right person. The tool scours the web for the email addresses associated with a particular person or company.
With the free plan, you can research fifty names per month.
Understanding what your competition is doing is integral for any business. SimilarWeb offers you a smart research tool that gives an excellent insight into your competitor's online strategy.
You'll be able to see which of their pages performs best, their traffic information, and more. The downside is that you'll need to choose the top five results for each metric, but it should be more than enough data to get you started.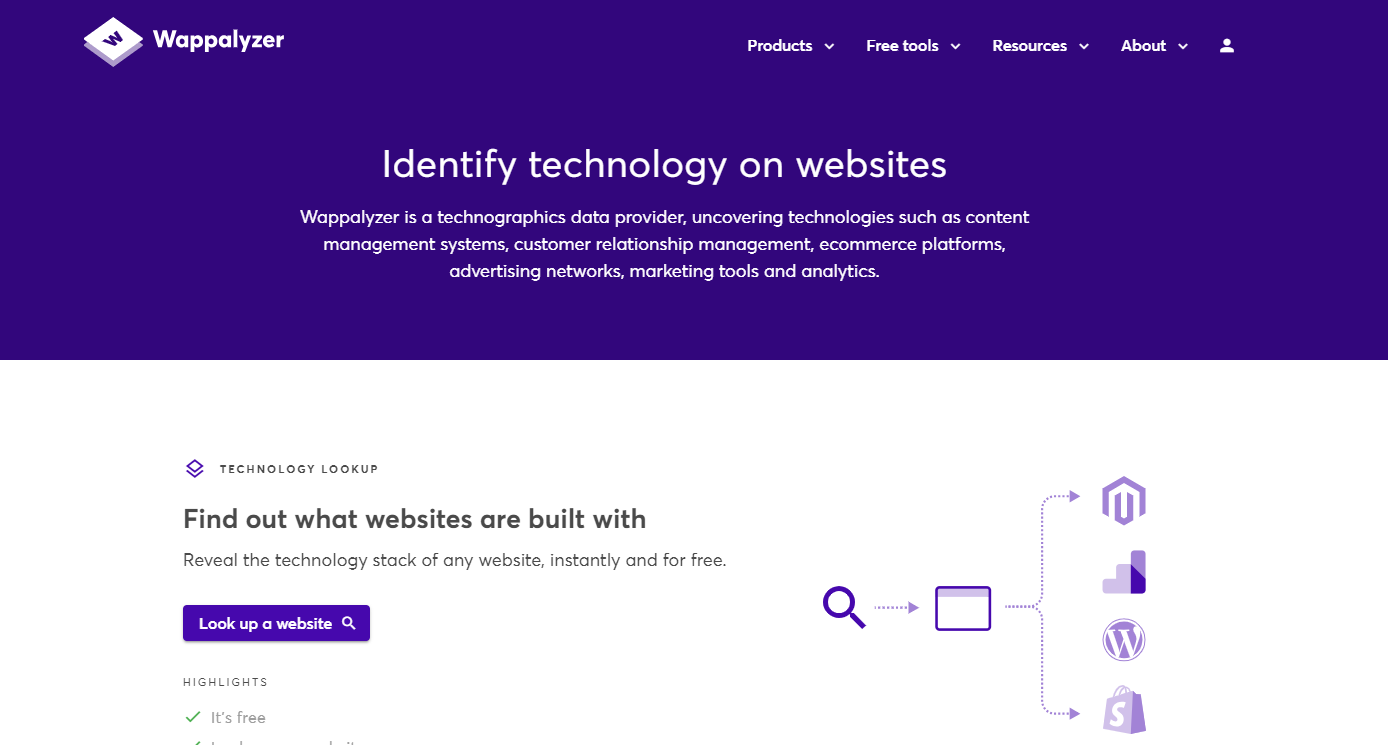 Are you interested in the technology or apps that your competitors are using? Find out the details with Wappalyzer. The free version tells you if they're using Yoast or any other app.
It's extremely helpful when you need a thorough analysis of a competitor's site structure. It may not be one of the best free seo tools, but it's certainly one of the most under rated.
We add this tool hesitantly because it's popular with black hat marketers, but we do see the value for legitimate marketers, as well. If you need to check a long list of domains for availability, copy and paste it into the screen.
The site will check up to 20,000 domain names at once and let you know if it is taken or available.
Improve Your Mobile SEO
Google changed to mobile-first indexing a while ago, which means that the main elements of your site should match both mobile and desktop versions. Websites should display well on mobile, but this tool will check to see the consistency of both sites.
Search results differ depending on the device searchers and their location. How your website ranks on different devices is something that can impact your results going forward, for example.
Using this tool quickly and easily checks rankings for any location and website.
Put this on the list of ESSENTIAL sites to visit. If your site's not mobile-friendly, don't expect a lot of love from Google. This useful tool will alert you to areas that need to be improved.
Optimize Your On-Page SEO
It is one way to get inside the mind of the Google algorithm because using this tool allows you to see how Google views the language on your site. It's slow, working one page at a time, but it's interesting to see how Google interprets context, syntax, and other relevant aspects that are under your control.
Have you used the right mark-up on your site? Does your website uphold the standards set for 'Rich Results' from Google? This tool lets you see the answer.
A pass here doesn't mean that it'll be listed, but it will help you tweak your mark-up strategy effectively.
This page should be your go-to resource for structured data. Analyze your page for issues and make amendments as you go to get the right coding.
Take a look at your competitor's data while you're at it—you can't change their coding, but you get useful information for a site audit.
Tag, you're it. This resource makes it easy to insert tags into the HTML coding on your website.
We wouldn't use it to add essential components, but it's useful for simple tags.
Is Your Website's Speed Up To Scratch? 
Cloudflare is something that most webmasters should use, as it makes DNS management a breeze. It also protects your site against DDoS attacks and makes it easy to speed up your website.
All these features come with the free plan, so there's no pressure to upgrade.
Lighthouse is another of Google's projects for analyzing how well your site performs on desktop or mobile. It's an open secret that the algorithm here works on a similar basis to the overall ranking algorithm on Google, so it is a useful tool.
If Lighthouse highlights issues, fix it fast.
Page Speed Insights is Lighthouse's 'big brother.' It works in conjunction with Lighthouse to provide field data—an amalgamation of visitor experiences for your site.
There may or may not be information available for you. It depends on how many visitors opt to allow Google to record this data. It's worth regularly checking because you'll gain insight into frustrations that your visitors are facing when using your site.
Speed Monitor should go under "SEO Life Hacks."
The resource monitors your website's performance daily and compiles a report for you. You can view historical data and even keep an eye on how your competitor's website speed measures up. It's also a pleasure to use.
WordPress Tools
Almost every WordPress User knows about the Yoast plugin. It checks your content as you write it to ensure that it's perfectly optimized. If you want a cheat-sheet to on-page SEO, this is as close as it gets.
This is easily one of best free seo tools available. It's not the only plugin you'll ever need, but it should be the first one you install on Wordpress.
Tools That Have Several Purposes
Marketing Miner helps you access mounds of SERP data fast.
It compiles the data you request into handy reports neatly and quickly. The free plan offers limited benefits, but more than enough for you to get a feel of whether you like this tool or not.
All you need to use the free version is to register on Moz. Then, it's a simple matter of adding the extension to your browser.
As you surf the web, you get access to SERP data and other useful real-time data.
The site is a compilation of templates that you can use on Google Sheets. If you're relatively new to marketing, these templates provide you with an excellent foundation for starting your site audits, keyword research, and other ventures.
The extension is ideal for any marketer on the go. It'll check your on-page SEO and scan for broken links.
There are also quite a few more tricks up this minion's sleeve, but we'll let you find out about those for yourself.
Final Notes
That rounds off our compilation of the top 38 best free SEO tools available to marketers in 2020. All these tools provide interesting insights and hard data on which you can base a comprehensive marketing strategy.
There are so many SEO marketing tools on the market today that it can be challenging to choose which paid options to select. With the free versions of the resources listed above, you will get an excellent feel for how each operates before committing to paid plans.
If you do feel that you'd like access to a broader range of features, you'll be better able to make the right choice after using the best free SEO tools out there.