Having your medical website place at the top of Google's search results is a smart move for your business. Did you know that the majority of users looking for a medical or dental practitioner use Google to find practices in their area? It should also be noted that even more of those users will search for their medical queries before seeking care. Over half of the users who search for providers will select one of the top 3 results, meaning if your practice is not placed in one of these spots, you are bound to lose potential patients to your competitors. This is why search engine optimization, or SEO is essential to ensuring your practice is successful. Here we will discuss what Medical SEO is and how SEO agencies work.

Medical SEO – What is it?
Medical SEO involves optimizing your medical website's search engine ranking so that your practice can reach more patients who are already looking for the service you provide. This should be the foundation of any digital marketing strategy for medical practices.
Why is this important?
While it is true that you can gain some patients through word of mouth, more often than not, people turn to search engines to direct them to a reputable practitioner in their area. Mobile devices are most often used for this. As we have stated previously, over half of the people performing these queries will not bother going past the first 3 practices listed. Therefore by not investing, you are really putting yourself at risk of falling behind in your field when it comes to acquiring new patients.
Many practices that use Google to reach potential patients do so on a PPC (pay-per-click) basis. While this does attract attention to your practice, it isn't the best way to go about advertising on Google when it comes to the medical field.
Using PPC ads may garner results in the short-term, but if you want long term success you will want to utilize SEO. Proper content marketing has been shown to get 3x the leads per dollar spent than paid search ads.
How to use Medical SEO to ensure your practice is at the top of Google's search results
When you perform a Google search, the top results you see are there for a reason. Google uses algorithms designed to show the most relevant links and answers to every query. In general, the points below will ensure you rank higher than your competitors:
Your website is mobile friendly, fast, and secure
You have quality content that is optimized for medical SEO
The keywords you use are appropriate
Images and video are optimized
Your pages have the correct title tags and meta descriptions
Quality backlinks, social signals, and directories
Your Google my Business page is 100% complete
We will discuss each of these in detail below
Your website is mobile friendly, fast, and secure
Mobile-friendliness, speed, and security are all ranking factors when it comes to Google searches.
First we will touch on mobile-friendliness. The majority of your potential patients are using their smartphone to search for practices that fit their needs. If your website is not optimized for them to use, you are missing out on a large portion of your potential clientele.
Speed is also an essential factor. Google will not place your website in a coveted top spot if it takes more than 3 seconds to load, because today, most users will click the "back" button if a website takes longer than this. The optimum loading time is under half a second.
Obviously, security is important to any internet user. If your practice does not have a secure (HTTPS) website, you will need to fix that IMMEDIATELY, regardless of advertising or not.
You Must Have Quality Content That is Optimized for Medical SEO
Along with the above requirements, you want to make sure your website has quality content that is optimized for SEO.
What do we mean when we talk about quality content?
This is content that reaches your target audience in a way that genuinely helps them live better, or easier. This is done by ensuring your content is driven by your patients' needs and wants. Having content that is optimized for your patients medical micro-moments means that you include various resources such as blogs, newsletters, E-books, landing pages, press releases, and more. For this you will want to create a content distribution plan.
Google has a basic outline for defining quality content:
Ensure your pages are primarily for users
Avoid deception of any kind
Don't "trick the system" by doing including content that will only help you rank higher in searches
Think about new and fresh ways to make your website appealing and engaging
To delve deeper into these guidelines you will want to AVOID doing the following:
Cloaking
Link schemes
Using automatically generated content
Using pages with little or no original content
Hidden links or text
Sneaky redirects
Loading pages with irrelevant keywords
Sending automated queries to Google
Scraped content
Not adding sufficient value while participated in affiliate content
Doorway pages
Abusing rich snippet markup
Creating sites with malicious behavior (such as viruses, malware, or phishing
Ensure you are following good practices such as:
Preventing and removing user-generated spam
Monitor your website for hacking, and removing any hacked content as soon as it appears
High quality content will be beneficial especially in this industry because Google classifies medical websites as YMYL (Your Money Your Life) sites. This means that Google recognizes that this content could impact the future health, happiness, or financial stability of its users. Low quality pages can have unintended or even dangerous medical consequences.
Using the correct keywords for your industry
Using the right keywords for the health industry is a must for optimizing your content for SEO.
Building a basic foundation around your specialization is an essential process for attracting attention of users. Most of which are looking for a medical service in their area. Here are some examples of these. We will use Dentistry as an example:
Dentist + your county
Dentist + your city
Your city + Dental specialist
Dental treatment + your city
Dental service + doctor + your city
Keywords will vary based on your specific practice. We recommend using Google's Keyword Planner. It is a very useful tool that will allow you to see the average monthly volume that this keyword is used in searches.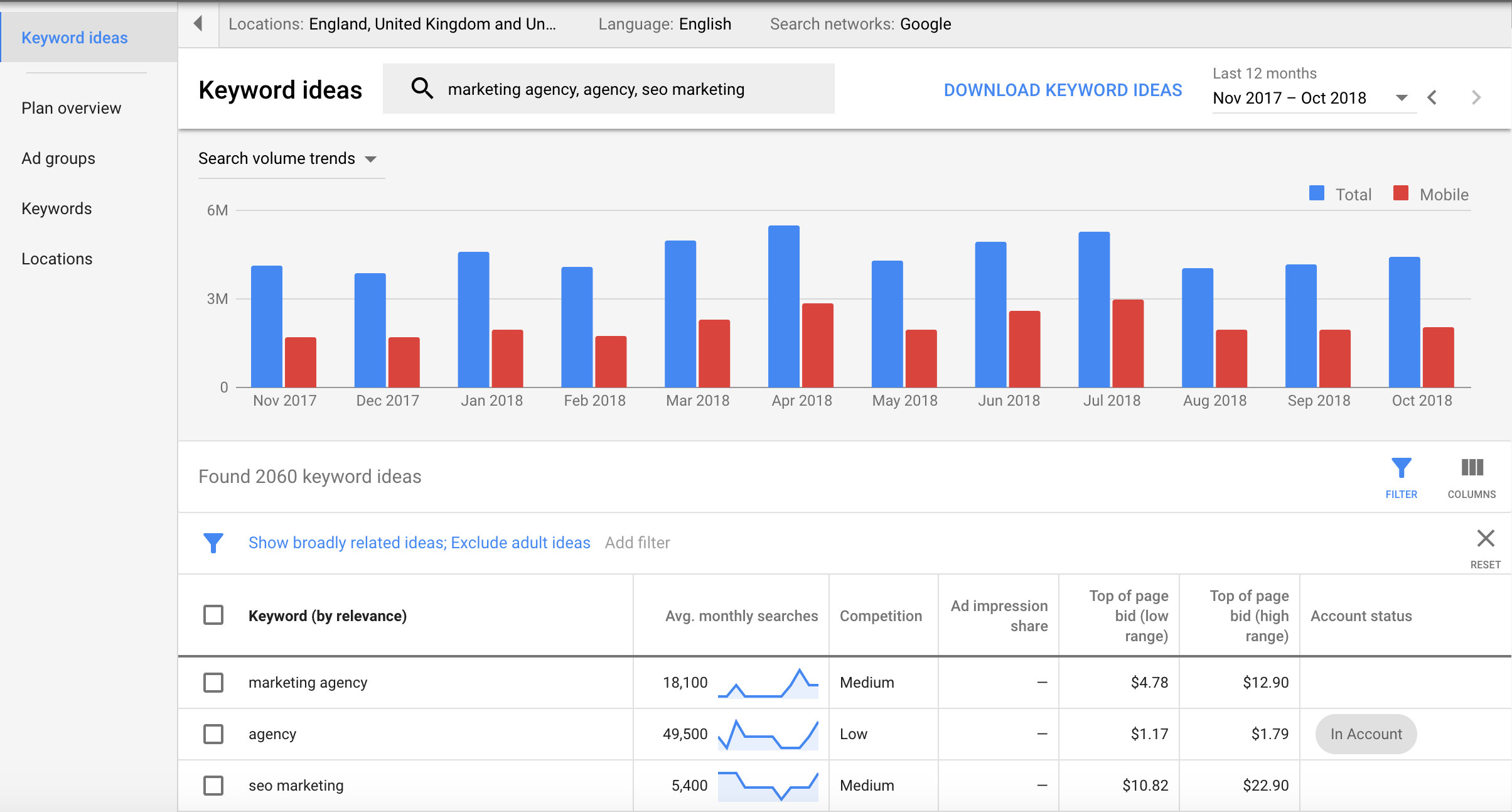 Keep in mind that over-using keywords sends a red flag to Google and you can be penalized for this.
Your pages need to have the correct title tags and meta descriptions, as well as Medical Schema
A web page's title tag is a major ranking factor. While meta descriptions are important, automated meta descriptions can be generated based on content. However it is still essential to make sure these are both filled out for best results.
If you are using WordPress to create your medical website, SEO Ultimate is offered as a plugin at the bottom of the page when you are editing. This will allow you to edit your titles and meta descriptions.


Including keywords in both the title tag and meta description, along with adding schema for doctors is important. Schema gives Google additional context about the information found on your website.
This makes it easier for Google and other search engines to interpret the content of you pages, and increases the likelihood of it being included in a users' search results.


These are some of the things you can highlight using schema:
MedicalCondition (information about a specific medical condition)
MedicalGuideline (a medical guideline)
Drug (information about a medical drug)
MedicalWebPage (single-topic web pages dealing with a health or medical topic)
MedicalScholarlyArticle (a page that references or includes a medical scholarly publication)
Optimized images and video
Video marketing has become an invaluable tool for many industries. Web pages with video content are shown to experience higher organic traffic. Even videos by themselves are 50 times more likely to be shown on the first page of a Google web search.
Here's an example of the results if we search "what happens during a stroke":


Videos are the first search results under the knowledge graph. In order for your videos and images to rank well, they must be optimized. As we've discussed previously, if a web page takes too long to load, you will not have beneficial results.
Quality backlinks, social signals, and directories
Sometimes overlooked, offsite indicators such as links to your website are ranking factors with Google. These include directory listings, links to your site, and social media profiles.
Social media is actually high up on the list of SEO priorities. Nearly half of consumers will visit the social media site for a practice before visiting, to review content and check out reviews. This has a substantial impact on their decision making these days.
Your Google My Business Page Needs to be 100% Complete
This ties in with offsite authority. Patients generally want health services that are close to their location. Search queries containing the phrase "near me" have increased substantially over the years. In order for local patients to find you, you will need to show up in Google's local pack. This is a group of 4-5 businesses that will show at the top of the search results, particularly for mobile users.


This information is gathered from a few sources, but is primarily sources from your Google My Business page. We recommend checking this first in your journey to improve your business' search query results. You'll want to make sure that these sections are filled out:
Your main phone number
Hours of operation
Address or service area
Your practice's categories
Description of your practice
Reviews
For Optimum Health: You Need a Sound Medical SEO Strategy
From what we've discussed you can see that proper local SEO is essential for your practice or healthcare business to rank at the top of Google's search results. Of course, there is never a one-size-fits-all way to go about this. Starting with a digital competitive analysis is a great way to get a feel for what you may be lacking compared to your competitors. This will help you prioritize these key elements to ensure success.
If you need any one-on-one help from an SEO expert, we are here for you!