Choosing to open an online clothing store is a smart decision. Online clothing stores are one of the most popular options for e-commerce. Online clothing sales are expected to dramatically increase in the next year, so there are a lot of opportunities to cash in on this growing market. So how do you start selling clothes online?
Starting a clothing store online may seem simple at first, but it's much more than just purchasing a domain and placing ads. Being successful in this market depends a lot on the niche you select, the quality of your products, proper branding, fulfillment strategies, and the level of care you are willing to dedicate with customer service. 
Choosing a popular niche isn't a guaranteed way to instantly gain the business of potential customers. You must stand out from the crowd by offering something that people are truly looking for. Something that no one else is providing. 
Here we will show you step-by-step how to start selling clothes online, and how to ensure your business is successful. 
Choose Your Niche
When starting to sell your clothes online, choosing a niche is the first step in the process. This ensures you are creating your brand around the type of shoppers you want to attract, and will allow you to position your brand in a way that is unique to your customers. 
Being specific is key. It will allow you to identify and advertise to your target audience in an easy and direct manner. It will also make it easier to develop your products to appeal to your target audience, which will help eliminate your competition and potentially increase customer loyalty in the long-term. 
One example of this is CharlieBoy. They are an Australian based clothing company that specializes in making gender-neutral shirts. Their fabrics are locally sourced to promote eco-friendly practices, and their shirts can be designed specifically for the customers purchasing them.  
When choosing your niche it is important to keep these things in mind:
Choose something that not only interests you, but something you are passionate about. 

Be as unique as possible

Consider what you can do to add more value to your brand

Make sure your products are worth the time and money spent creating them by ensuring your niche has earning potential
Choose The Products You Wish to Sell Online
When you're starting an online clothing store, it's important to keep in mind that there are virtually no limits when it comes to the apparel market, and there will undoubtedly be many other brands within your niche. 
This is why it is vital for your business that you take your time. When starting an online store, it's best not to with a wide variety of products. Start small, picking just a few items that you think represent your brand the best. As you continue to grow, you can add more products to keep the excitement going and encourage long-term customers. 
One example of this is the brand Elizabeth Suzann. This brand focuses on "slow" fashion. From the very start of the company, they strived to provide high-quality, and long lasting products that were simple and minimalistic.  At the beginning there was a small list of items available, and as the company grew, they added additional products such as shoes, and even bridal gowns.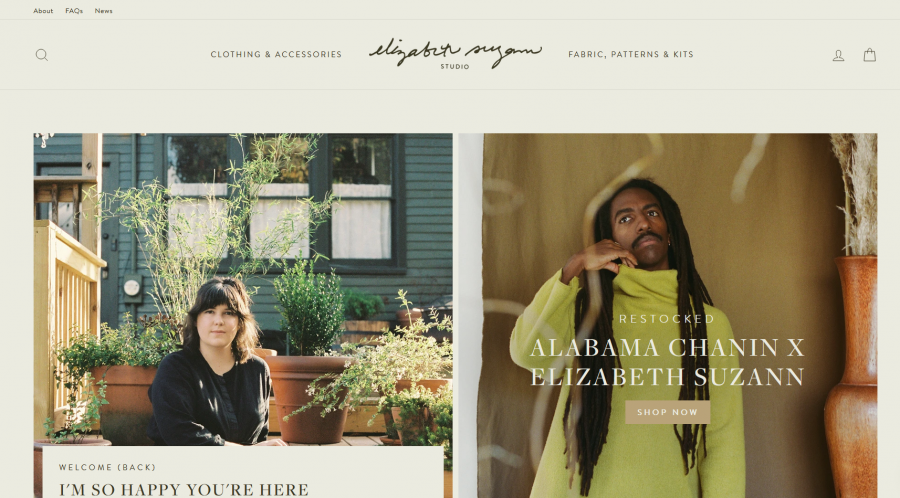 So how do you choose your products? Here are 3 things to consider:
Slow and steady
As we've discussed, pick a handful of your must-have products at launch. Ideally these will be of the same category. I.E. shirts, activewear, dresses etc. When you add a variety of products at launch, your brand can get lost. Not to mention the administrative costs of having a variety of products. From fashion photo shoots, to a more complicated e-commerce strategy, more products means more work. Remember you are entering a very competitive market, so a consistent product when starting out is key.
Consider the Future
Because new trends are emerging all the time, it's important to choose stable products that you can easily modify to keep up with the current scene. If your brand will be focused more on mainstream fashion, ensure your store can adapt to these changes. Drop shipping orders is a great strategy for this, as you will eliminate the potential of having stock on hand that you can't sell.  
Focus on Your End Goal
While we have already spoken of starting small and slow at the beginning, make sure you know what direction you'd ultimately like to go. When you envision your brand a few years from now, what do you see? What products are you providing? Leaving room to focus on the future will ensure you can seamlessly increase your line of products within your niche.
Choosing Your Business Model and Online Clothing Store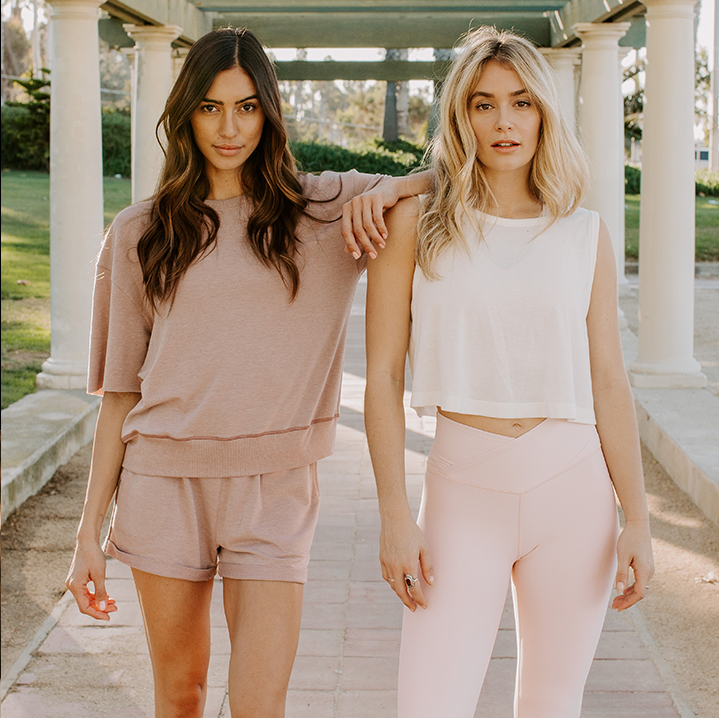 After knowing what niche your clothing store falls into, and you have a list of products you'd like to start off with, you want to pick a business model. There are four types of models to choose from for online clothing stores:
Custom cut-and-sew

Print-on-demand

Private label

Dropshipping
Choosing the right business model for you comes down to your overall objective, skills and budget. 
Let's break these down to help you better choose the right one for you.
1. Custom Cut-and-Sew
This is a great option for people who want to launch a clothing brand with products made from their own design. 
This means you will be doing everything from designing, manufacturing, and fulfilling yourself. 
Obviously the biggest advantage here is that you are selling clothing items that are truly unique. The sky's the limit! Of course, this business model also comes with meticulous management. You will be in charge of sourcing your own fabric, coordinating with manufacturers and pattern-makers, etc. You will need a lot of time, and a strong budget in order to get this off the ground. This is generally the most challenging model for a small business.
2. Print-on-Demand
This is the most straightforward business model for online clothing stores, as well as the most budget friendly. Custom t-shirt printing is already popular, but it is expected to boom in the next few years. 
These clothing stores allow you to print your design or logo onto blank apparel. 
When dealing with a small number of orders, this is by far the most cost-effective option. 
With this business model, the important thing to keep in mind is that for the most part, the profit margins are lower, and will offer fewer options in the way of customization than other business models. 
3. Private Label
Private label business models are somewhere between cut-and-sew and print-on-demand models. The budget needed is smaller than a cut-and-sew models, but there are more customization options than a print-on-demand model.  
With this business model you would be purchasing pre-made clothing to which you personally add your own design, tag, or label, then sell them in your store. You can usually shop around and negotiate rates when buying in bulk, thus making this a great option for those who do not have a large budget. 
Keep in mind with this business model, that you will need to manage the inventory and fulfillment yourself. If this task seems daunting to you, keep in mind that there are platforms that will help you manage this. 
4. Dropshipping
Dropshipping models are similar to print-on-demand, as you will sell clothing that is fulfilled by wholesalers. The bottom line is that, because you don't have to worry about managing inventory, shipping, and storing, this is a budget-friendly option. Of course the downside of this, is that your products will not be very unique, and there could be quite a few established online clothing retailers that are selling the same products you are. 
Outline Your Business Plan
After figuring out your niche, initial products, and the business model you want to go with, you'll want to work on outlining your business plan. The following should be included in your outline:
Target Audience

Biggest competitors

Products

Company/brand description

Fulfilment strategy
When creating your strategy, you'll want to first pay attention to where your potential customers can be reached, and what will make your products appealing to them. 
Along with this, pay attention to your pricing. This plays a vital role in your business strategy. When considering your pricing, consider these important factors:
Design and development

Production cost per product

Materials

Equipment, web design, hosting, partnering with business services, etc.

Labor and transportation
Knowing your cost is important. You'll want to aim for a margin of 30%-50%. A great strategy is to check out a top competitor. Pay attention to their pricing so you know you won't be charging too much or too little, so you can avoid pricing yourself out of the market. 
Create Your Online Clothing Store
This is by far the most exciting part of your journey into your start of selling clothes online. 
Buying a Domain
Creating a domain is the first step in this process. We encourage you to buy this upfront as soon as you have your main idea. It can be a terrible feeling to find out that your domain name you wanted is already taken after going through the previous steps we have already outlined. 
After choosing your domain, you'll want to choose your theme and platform (this can be done in any order). Take your time in choosing this, as it can make or break your e-commerce business. 
Designing a website properly and ensuring it is user-friendly are just as important as the product you are selling. Take your time with this. If you have the budget to hire designers, or can teach yourself to use WordPress, all the better, but if not, consider a platform such as Shopify. 
This may seem to go without saying, but for the sake of being thorough, we should mention that professional product photography can make or break your online store. Your potential buyers will not see your product in person when purchasing. If your product looks bad, your chances of making a sale are slim.
Additionally, ensure that your descriptions are not only accurate but enticing. This will give your buyers a great boost of confidence when choosing to purchase your products. 
Launch Your Online Clothing Store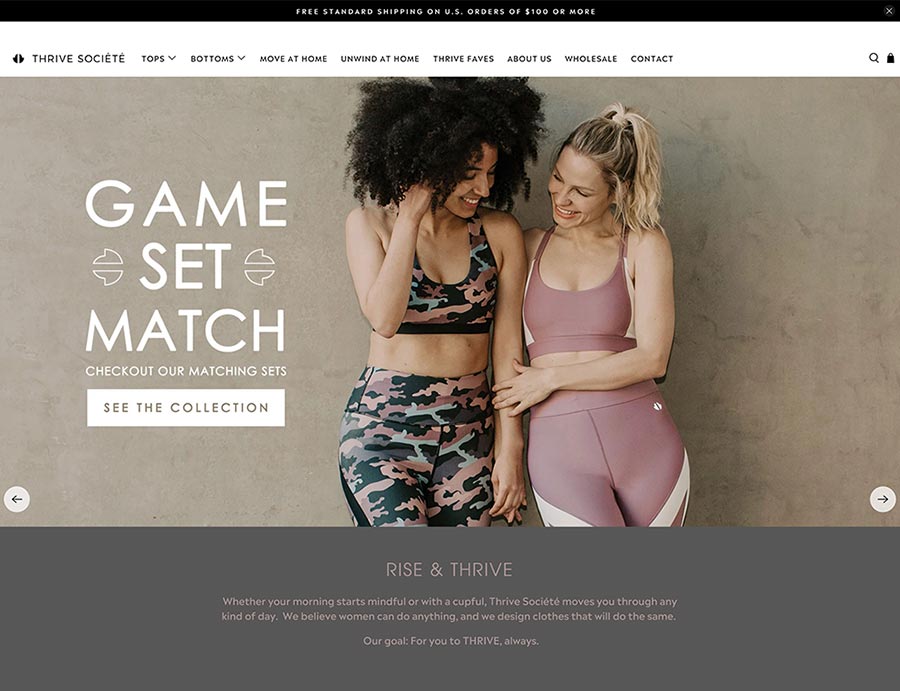 Once all of the previously mentioned steps are complete, it's time to launch. These tips will help to make sure you are ready:
Have a Launch Strategy
What are you going to do to generate excitement? Some options are working with a social media influencer, running a promotion, and sending out teaser mailers through an existing email database. It is also important at this part of the process to do a test-run through a buyer's journey with each of your products, and checking every other aspect of your website to ensure it is fully functioning. 
Get Your Social Accounts in Shape
Making sure that your social media accounts are set and active, with content before your launch is important. You'll want to use these right away to alert followers about your launch, and to market your target audience. 
Ensure Your Email Marketing Strategy is in Place
This includes automation emails. You'll want these to be set up and tested before launch. It's also a great idea to have an email marketing strategy set in place that covers the first few months after launch. You can encourage people to sign up for these emails with pop-ups that show when they first arrive to your website, that offer discount codes for signing up.
Set up Your Google Ads Accounts and Google Analytics
Having both of these in place will allow you to drive search engine traffic to your account through SERP ads, and allow you to track the traffic to your online clothing store. 
Direct Traffic to Your Online Clothing Store
The most effective ways of driving traffic to your online clothing store are through content marketing, PPC, email marketing, being featured on popular social media blogs, and using influencers. 
If you are walking in pretty much empty handed in regards to followers, and email database lists, you'll want to put your effort into social media ads, and Google ads. Facebook and Instagram are the top social media platforms for e-commerce, and a fantastic way to bring in customers.  
Here are some relevant articles for more info on how to navigate this successfully :
While campaigns that direct traffic to your website are the most important factor in determining your online clothing store's success, it doesn't have to be overwhelming. We are here to assist you with any questions or concerns you may have in regards to ensuring your launch is successful.