SEO and lead generation are vital elements in creating an effective marketing strategy to grow your business.
The strategy helps cultivate interest in your company to attract qualified prospects who transform into loyal brand ambassadors and customers. No business will survive without leads.
However, SEO and lead generation are different, but when these powerful strategies are put together, they can drive massive growth for any business.

We have gathered all the information you need about SEO for lead generation to help you grow your business.
Let us get started:
What is SEO?
Search engine optimisation is the process of improving a website's rankings in search engine results. The process includes on-page, technical, and off-page factors influencing how well a site ranks in search engines.
On-page search engine optimization includes keywords, page titles, headings, meta descriptions, alt text for images, and content.
Technical factors include hosting location and server type (i.e., shared or dedicated).
Off-page factors include social media shares, citations (links), backlinks (linkbacks), incoming links, or blogs that link to your site or blog post.
What is Lead Generation?
Lead generation refers to getting consistent sales qualified leads through SEO strategy who are willing to make a purchase. Is that not something good for your business?
There are two types of search engine optimization: organic and inorganic. Organic SEO is when you work on your site's performance by creating content, improving site structure, and providing information that meets the needs of your target audience.
It's about attracting high-quality visitors who are likely to convert into leads.
Inorganic SEO is a bit more complicated. You must invest in online advertising, such as Google Ads, which means pay per click or ad impression. Your ads need to be relevant and compelling enough for people to click through them and visit your site.
Once they're there, you can encourage them through content and calls-to-action (CTAs) to complete a form or download a white paper that will feed into your lead database.
Smart SEO Tips to Boost Your Lead Generation
As the web gets more crowded, you must focus on smarter strategies to promote your company. Instead of shoving your latest product or service down people's throats, try bringing value to their lives, and they will return the favor by letting you show them what you have to offer.
You can help your business grow by implementing smart SEO tips like those outlined in this article, which will help you generate leads without resorting to shady tactics that Google has been known to penalize for in the past.
1. Create Seo-Optimized Content
The more you know about search engine optimization and how it can help your business, the better you'll take advantage of this powerful tool to get better Google search results.
Here are some great tips for maximizing lead generation using SEO and content strategy:
– Conduct keyword research for your target audience and search engines.
– Use keywords in your site's title tag and meta descriptions.
– Optimize your page titles for a targeted audience.
– Create content that includes keywords in the first sentence or two.
– Include a blog post with an embedded video, if possible.
You will gain exposure on both platforms while increasing the chances of ranking highly by Google in their SERPS (search engine result pages).
2. Increase your website speed
Improving your website speed is a great way to increase lead generation. Slow loading speeds have decreased conversions by as long as 20%.
In addition, customers might abandon their shopping carts if your site takes too long to load. Increasing website speed is a surefire way of reducing customer drop-off and increasing leads.
3. Conduct Keyword Research
Google Analytics is a great tool for doing keyword research. You can even set up Google Adwords campaigns to test the effectiveness of your keyword phrases and see which ones are generating more traffic for you.
You can also use YouTube video titles, descriptions, tags, and comments to include your keywords and rank higher on the search engine results pages (SERPS). Finally, ensure that your digital marketing strategies rely on relevant keywords you want people to find when they search.
4. Use Local SEO Strategies
Online lead generation is an effective way of attracting new business for your company. It's important to keep your website fresh so that it shows up on the first page of search results.
One way you can do this is by using a local SEO strategy. This means targeting keywords and phrases specific to your geographic location. You can also create articles related to your industry or interests to rank higher on search engines like Google or Bing. The more content you have on your site, the better your chance of being found on organic search engine results pages (SERPS).
In addition, it's essential to be aware of current trends. For example, if social media has become a popular topic recently, ensure to include that keyword or phrase in any content you publish.
Finally, don't forget technical SEO factors such as adding alt tags and meta descriptions. These are useful tools when trying to get found online.
5. Manage Customer Reviews
A lot of people are unaware of the importance of customer reviews. They mistakenly think that by just getting their website in front of potential customers, they'll have no trouble getting business.
The reality is that nearly 80% of buyers will research a company before making a purchase. And this isn't just from reading reviews on the company's website or social media pages but also looking at what other people say about them on third-party review sites like Yelp and Facebook.
For example, if you're thinking about purchasing a new desk chair, it would be wise not only to read the reviews for your favorite retailer's chair but also to read what others who've bought chairs from that retailer have said about it on these other sites so you can make an informed decision.
6. Have Active Social Media Platforms
The other thing you should do when looking to increase lead generation is to work on your social media posts and platforms. You want to ensure that you're not making any mistakes that could hurt your chances of getting traffic to your website.
You also want to think about what you post and how often. Keep in mind that if someone sees something that doesn't represent your brand well, they might assume it's representative of all the other things you sell. That could be a deal breaker for your brand, so it's worth looking at what you're posting before hitting 'post.'
Some common social media platforms that increase lead generation include Facebook, LinkedIn, Twitter, Instagram, and others. You must know which platform you can use to reach the target audience.
7. Start Link Building
Start building your online presence by publishing quality content on your website and social media channels. Quality content is imperative for search engine optimization (SEO) because it helps build your website's domain authority.
Domain authority, which is a measure of how authoritative a website is in relation to the topic it covers, influences how high up in search results your site appears when someone searches for information related to your industry or niche.
Link building can be as simple as blogging about relevant topics consistently and linking pages on your website, or you can take it further and publish guest posts in highly authoritative blogs and link to your website.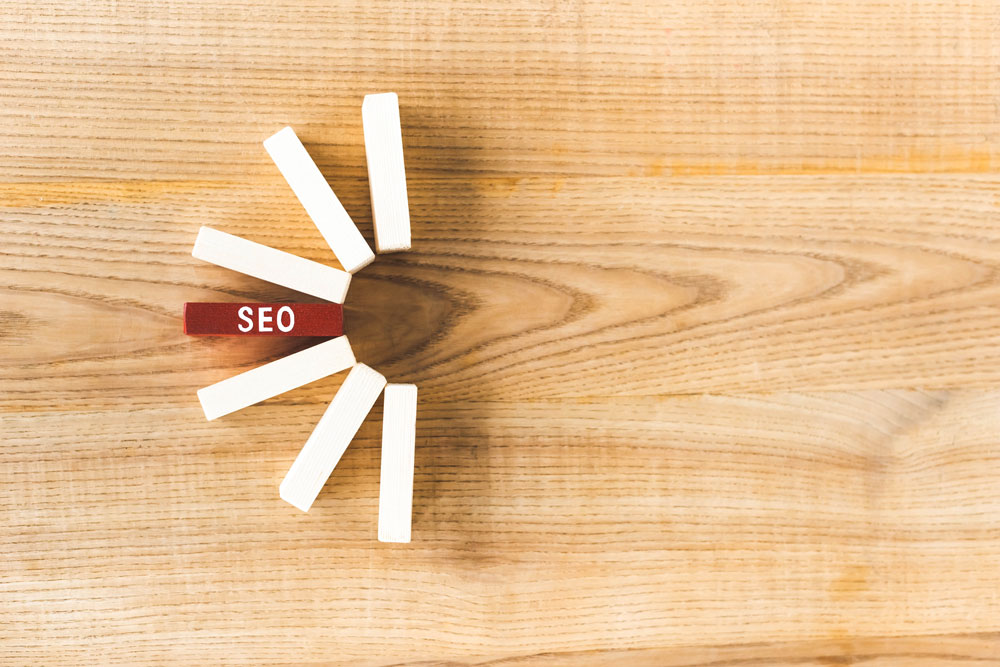 Don't Make These Common SEO Mistakes
Search engine optimization (SEO) is important for running any business website. Your website must appear at the top of the list when someone searches relevant keywords; otherwise, your company will have no visibility and lose potential customers to your competition.
However, there are common mistakes that many companies make while trying to optimize their site to appear on search engine results pages, which can end up hurting them rather than helping them reach their goals.
Here are common SEO mistakes you should avoid in your SEO lead generation strategy at all costs.
Keyword stuffing is the practice of filling up web pages with keywords to manipulate search engine rankings. This can lead to penalties on search engine results pages (SERPs) and lower rankings.
Google, for instance, will often penalize sites that use keyword stuffing by dropping them in the SERP rankings. Plus, it's not even an effective strategy. If you're lucky, your site might rank higher on Google for a few days or weeks, but your ranking will eventually plummet as Google changes its algorithm.
Buying Poor-Quality Links From Directories 
Buying poor-quality links from directories is a common mistake that can lead to a Google penalty. If you think you need links and don't have the time to create them yourself, consider using a service that won't penalize your site. Most professionals use a link-building service with safeguards like Plagiarism Checker, such as Copyscape.
Article spinning is a technique that can be used to reduce the number of duplicate content on your web. But, it should not be used as an excuse to have no unique content on your website.
If you use this technique to create new articles, ensure they are well-written and informative. Otherwise, people will not want to read them, and they will not generate any traffic or interest.
One of the most common mistakes we see people make is when they write duplicate content. This means copying and pasting your content from one page to another. If you do this, Google will penalize your website for duplicate content and rank lower on search engine results pages (SERPs).
Instead, create unique text relevant to the webpage so Google can index it more accurately. While this may seem like a lot of work upfront, it pays off in the end because you'll rank higher in SERPs and have an easier time attracting organic traffic from Google.
This technique refers to the opposite of white hat SEO techniques. They're deceptive or manipulative ways to get higher rankings in search engines. While they may be tempting, they can also lead to penalties and damage credibility in the long term.
To avoid these mistakes, always:
– Don't use sneaky tricks like cloaking or doorway pages
– Avoid spamming with irrelevant links
– Don't overuse keywords that don't describe your content
– Don't buy links to boost your rankings
– Be ethical about how you build your links
How to Get the Right Lead Generation Agency for Your Business
Choosing the right lead generation agency can be one of the most important decisions you make regarding your business's success. But it's one that many business owners do not take seriously enough.
Generating leads will play an integral part in your business's performance. When you choose an agency, you want to ensure that they are fully prepared to provide your company with everything it needs to succeed.
This guide will walk you through what to look for in a lead generation agency.
Choosing a lead generation agency can be a daunting process. Knowing where to start or who can offer the best service is a hassle with so many companies. The first step is researching prospective firms.
All companies are not equal, but you will find one that suits your needs in the process.
Look at their testimonials
You can find testimonials from clients on their websites and reviews on various platforms. These testimonials are a great way to get an idea of what people think of their work and see if they have any recurring complaints you want to avoid.
Consider how often they update their testimonials. Suppose a company doesn't update its customer's opinions regularly. In that case, it might mean that not much has changed regarding how the company operates or what results in it delivers.
Consider Years of Experience in Business
The other thing you want to look at is the experience of their team. Has this company been in business for a long period? Will they be able to guide your company through the process, or will they need help with it? Do they have an office and staff ready to go on day one? Can they provide references from clients similar in size and scope to yours?
One of the most important factors when choosing a lead generation agency is finding one that will be a good fit with your company's values. Selecting an agency that aligns with your company's mission and culture is crucial because it will make them more effective at generating leads.
The next thing you want to consider when choosing a lead generation agency is its reputation. Not all agencies are created equal, so you must do some research by checking their reviews.
To get started, look at review sites like Google Reviews or Yelp and see what other businesses in similar industries have said about them.
Choosing a lead generation agency starts with considering your budget. In general, agencies charge by the lead or the number of leads generated.
If you have a small budget and want to start with a lower cost per lead, you may want to consider an agency that charges by the number of leads generated.
However, suppose your budget is higher, and you're looking for more efficiency from your agency in generating high-quality leads. In that case, investing in an agency that charges a per-lead fee may be worth it.
Lead Generation FAQs
Still, looking to know about lead generation? That's why we compiled this list of the top Lead Generation SEO FAQs to help you understand clearly and helpfully.
What does lead generation SEO mean?
Lead generation is the process of acquiring a lead or prospect who expresses interest in your product or service. There are many methods for generating leads, and lead generation SEO is one of them. This type of marketing involves ranking high on search engines for keywords representing your business and its products.
Why do you need lead generation?
Lead generation is the process of finding potential customers and turning them into actual customers. It's a marketing strategy beyond traditional advertising, where companies try to reach out to their target audience and sell their products or services. The lead generation process includes various online marketing methods, including Search engine optimization (SEO). Your company needs lead generation to rank higher in search engine results for particular keywords related to your product or service and get more customers.
How can SEO help in lead generation?
SEO is essential for lead generation because it can help your site rank higher in search engines, bringing more traffic to your site. This means that you'll have a much better chance of getting found by potential customers who are doing their research and looking for what you're selling. With SEO, you could also get organic traffic from links and mentions on other sites.
How can an agency help me generate leads for my business?
Lead generation is a vital part of any digital marketing strategy. Generating leads for your business can be tough with all the noise out there. You need a reputable and successful agency to help you generate leads.
How much does it cost?
Many people wonder how much it costs to hire a company specializing in lead generation. It's understandable, as the term lead generation can have many different meanings to different people. The price of hiring a company depends on various factors, such as the SEO strategies used.