Whether you're just starting to design your eCommerce site or you've been running one for a while you're probably asking yourself "what can do to get more sales?" The short answer is – a lot! But it can be tough to know what to prioritize. So we put together this handy guide to Balancing Marketing and Conversion for eCommerce websites to help you get customers to your site and convert that traffic into sales. Quite often we talk to clients that know a little bit about design, SEO, marketing, and conversion, but not enough about any of them to feel confident making decisions about how to design their site. You might be surprised at how people think that if they build a really great looking website, that Google will automatically rank it and send them traffic (this is unfortunately not true). Similarly, we talk to people that get traffic to their site, but no one buys.
The difference between marketing tactics and conversion tactics.
If you read a lot of articles about website design, it's easy to get confused about what's matters most. But we can break your efforts into two large pieces-
How do you get traffic to your eCommerce website?
Once someone has reached your site, how do you get them to convert (aka buy something).
It's not enough to just work on marketing (to get traffic to the site) OR conversion (convincing someone on the site to buy). These are two separate endeavors with a bit of overlap, but both need to be addressed individually. Once you break your digital marketing strategy into these two large chunks, picking which tactics you want to employ becomes much more straight forward. Keep in mind, some tactics are tailored to specific industries,  products, services, price points, and customer demographics. While we can't go over every single tactic possible for balancing marketing and conversion for eCommerce websites, we are going to discuss some ideas that are fairly universal.
BALANCING MARKETING AND CONVERSION FOR eCOMMERCE WEBSITES – PHASE 1
While there is no wrong way to get traffic to your website, there are a few pretty standard options. Understanding the best channel to bring traffic to your website is the crux of your ecommerce marketing strategy.
Ads
Pay-Per-Click (PPC) Ads are the most direct way to get traffic to your site.
Advantages:
They are immediate. You can start running ads today and get traffic immediately. You can create a very specific target audience to get just the right customer. If you have a lot of capital, you can compete with older and better-established competitors by simply outspending them.
Disadvantages:
Ads are paid for on a "cost-per-click" basis. If your cost-per-click is $1, you will get one click for $1. After someone clicks your ad however, that dollar spent will never return any additional value.  While the effect of ads is immediate, it is also very short term. PRO TIP: We recommend Facebook ads for products that look great in photos (clothing, packaged food, etc). Keep in mind Facebook owns Instagram, so you can use Facebook Ads Manager to run
Instagram Story Ads
, Instagram feed ads,
or to promote your Instagram posts
. Google Ads are great for non- visual products like software or apps. YouTube is great for complex products that need explanations like seminars or classes. Much like Facebook, Google owns Youtube so you can split placement between both from Google Ads Manager.
SEO
Search Engine Optimization (SEO)
is a longer term play to get traffic to your site. It involves a considerable amount of work, but it's well worth it once traffic starts rolling in.
Advantages:
SEO has lasting value. If you spend time and money to do content marketing for your site, optimize your site speed, build links, or improve your UX, those efforts generally will improve your ranking for months or even years. So when you spend a dollar on SEO, you can see the value return on itself for a very long time. Well written content will also increase your credibility as potential customers view you as a trustworthy source of information on your product or industry. With SEO the traffic you will receive over the course of a year will generally be less expensive than ads on a cost per click basis. Additionally, ranking high in natural search creates the preception that Google is vouching for you. While people understand that you paid for an ad, they tend to believe that Google will present them with credible options in natural search. Google has essentially become the ultimate trusted source, so high search ranking can actually increase the preceived value of a brand, and the price point the can charge.
Disadvantages:
SEO is slower to start than ads. You will likely not see traffic start to roll in for 2-3 months and you will have to build slowly on that traffic for at least your first year.
Social Media Management
Social media channels are great way to keep your customers aware and engaged with your brand.
Advantages:
At the end of the day the value of anything is essentially what a buyer perceives it to be, and social media marketing is an excellent tool for driving perceived value. When someone sees their friends, peers, or heros living the good life, they often want to participate. Quite often that means, wearing the same clothes, eating the same foods, going to the same places, and participating in the same experiences. Social Media Marketing has the power to create awareness and keep a brand in front of customers on a daily basis.
Disadvantages:
It's somewhat challenging to correlate social media marketing activity directly with sales. Even for brands with a large social following there's only one link in the account bio to take a user to a brands website (at least for unpaid content). While it's likely that some users will see a post on social media and simply switch apps visit a brands website directly, that traffic and/or sales is impossible to track with currently available tools. Social media content is also sorted algorithmically these days. It's not uncommon for posts on Facebook to be shown to 10% or less of the fans of a page. Odds are a bit better on Instagram (at least for now), but both social networks seem to be heading more toward a pay-to-play environment as time goes on.
Email Marketing Campaigns
Email marketing is the holy grail of repeat buying. Virtually every online retailer should be sending out email blasts on a regular basis.
Advantages:
Your odds of getting someone to buy a second time are infinitely better than getting them to buy the first time. Since email blasts are so cheap to send the ROI tends to be enormous. Email promotions are a great way to incentivize (and reward) loyal customers.
Disadvantages:
Building an email list takes time. Since new stores don't have any customers, they usually will have to run Ads to get new customers to whom they can send email offers. The days of buying email list are long gone. If you start sending large amounts of email to people that haven't opted in, you're a spammer. Expect ISPs to treat you like one.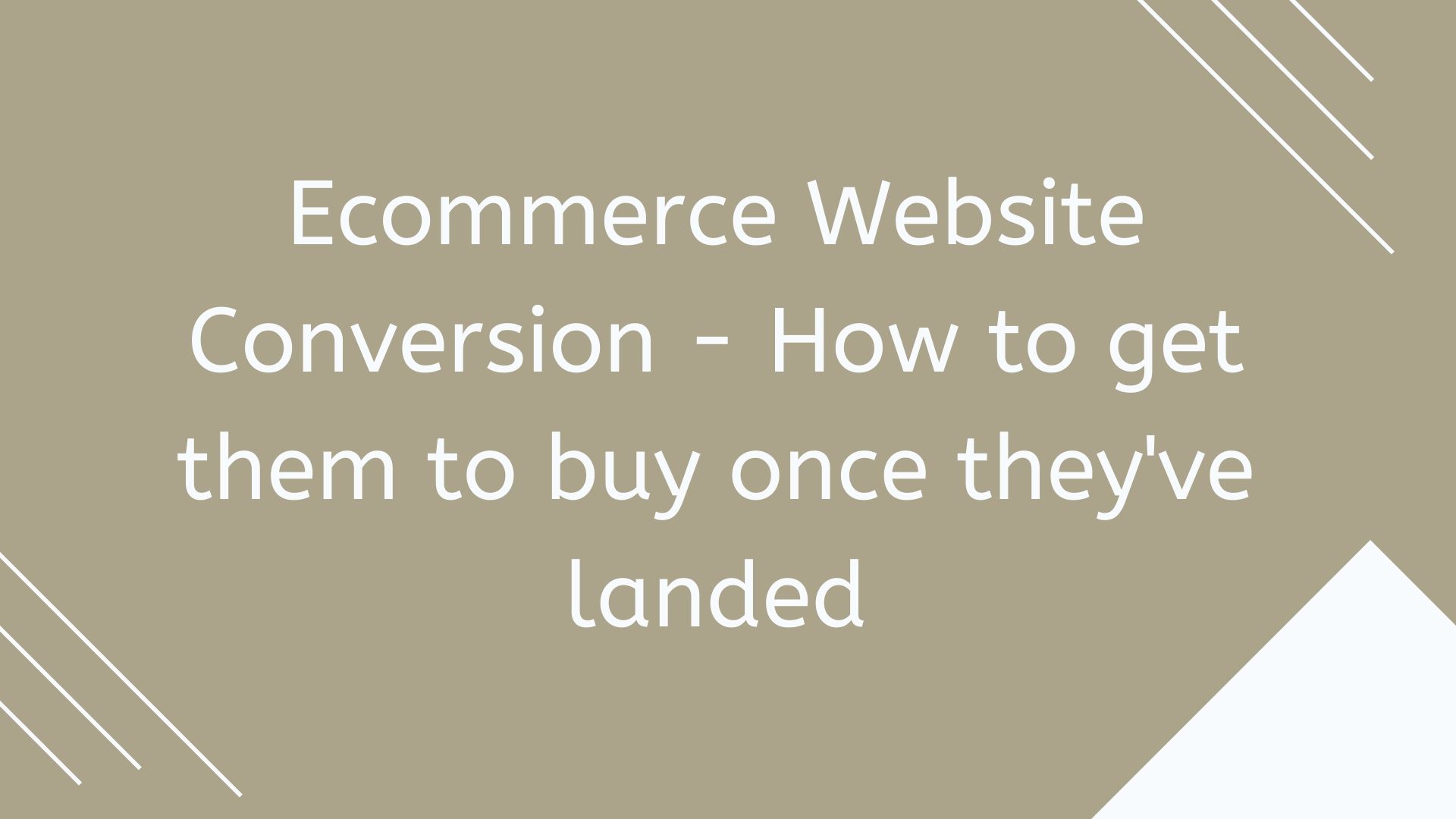 BALANCING MARKETING AND CONVERSION FOR eCOMMERCE WEBSITES – PHASE 2
Photography
Nothing will make or break an eCommerce store faster than high quality photography. If customers love what they see, there's a decent chance they'll buy it. If your product looks poorly lit, badly presented, or unattractive, it's going to be next to impossible to make a sale. When we shoot photography for a clients ecommerce website, we focus on creating a portrait of an idealized lifestyle with our client's product. We often work with clients whose products are very similar to their competitors. In many cases the only real difference might be that one product is presented more attractively than the other.
No one reads, they scan (at least on the first pass)
Try sitting next to a friend who's never seen your site before. Send them a link and watch how quickly they scroll through the page. Odds are, they will scroll the page from top to bottom in less than thirty seconds. IN fact, according to a study by
Chartbeat
many website vistors will start scrolling before a page has finished loading. DO NOT try to make a customer read, instead use this opportunity to hook them with headlines and imagery to get them to another page that interests them. In many cases, how fast a user can understand the meaning of a page (without necessarily reading it) can define the overall shopping experience. If you're adding text to your homepage for SEO use this to your advantage. We often have to add a lot of wordy text to sites for SEO purposes that very few customers will want to read. Take our advice- if you make a small dense block of text virtually no one will read it.
Merchandising
Nearly every online store has a banner at the top of their homepage and this is not by mistake. Do not miss your opportunity to tell customers what to buy (and don't forget a CTA button). When a potential customer comes to your site, they may have little or no previous contact with your brand. You want to show them what to buy immediately. Don't make them look, because most of the time they will not. We recommend having a homepage banner with an attractive image of either-
A specific product (pick a best seller or something new you think will be successful) with a call to action to buy (shop now).
A group of products in a collection with a call to action to visit it (shop collection)
Brand Messaging
Not everyone who comes to your site will necessarily understand what type of products you sell. You need to tell them, preferably in two sentences or less. There's a reason you chose to sell your specific products so tell people why.
Product pages
Product pages are the heart and soul of an eCommerce website, and are critical to increasing conversion rate. Here are some things to look out for-
Is your product titled in an obvious way (Casablanca Black and White Striped Cocktail Dress)?
Does your product photography attractively display the product?
Are you including images that show the product from different and angles or showing close ups of small details?
Does your product description include important details like ingredients, materials, size info, weight, etc.
Are you collecting reviews for social proof?
Are you upselling similar or related products (You might also like)
Unique Selling Points
Any good salesperson can tell you, there's a reason to buy whatever you're selling. Let your visitors know what's so great about what you're selling. Tell them why they should buy from you rather than your competitors. Give them pictures if possible. Is there something special about your manufacturing process? Does your product have a special feature that similar products lack? What problems does your product solve? These are all reasons that someone should buy from you, so let them know.
Payment methods
Although the majority of your customers will want to pay with a credit card, offering other payment options can increase conversion for some merchants. Digital payment options like Paypal, Apple Pay, and Google Pay have become fairly common and are easy to set up on most eCommerce platforms. This especially useful if you are selling to international customers. You can also try payment financing options like
Afterpay
if you have a customer base that likes to pay in installments.
Responsive design
We have found that among our clients who sell online, a whopping 50-90% of their traffic is on mobile devices. So small tweaks to mobile rendering can have a huge effect on overall conversions. Fixing problems for mobile users is an easy win that's highly likely to increase sales. Here are some of the most common mobile tweaks we make to improve conversion-
We make a mobile-specific version of the home page banner that is tall rather than wide to better fit the mobile device screen area.
Make sure your buttons are tall enough for the average fingers size.
Make sure navigational menu items are spaced far enough apart that users don't accidentally click to the wrong place.
Shopify has a bad habit of hiding the discount code field on mobile devices. We add a field for discount codes to the shopping cart since Shopify will not allow us to alter the checkout process unless merchants are on Shopify Plus.
BALANCING MARKETING AND CONVERSION FOR eCOMMERCE WEBSITES – PHASE 3
If you're working on Balancing Marketing and Conversion for eCommerce websites, you're going to need to measure where you are where you're headed. Here's a short list of tools to help you get started.
---
Google Analytics
Google Analytics
is by far the best and most ubiquitous tool used by online marketers to understand their traffic. Sessions are the measure most commonly used to measure traffic, so monitor this on a monthly basis. While there are thousands of metrics to look at in Google Analytics, the key statistics we generally look at first are:
Sessions- how many times customers came to the site
Bounce Rate- when someone goes to the page, sees it, and leaves with no other action
Conversions- how many times someone executed a key goal (like completing checkout)
Google analytics also has Ecommerce tools specifically for online stores. We pay special attention to Shopping Behavior to tell us where customers go and where they drop off. This is especially important when the ratio of Session with Checkout to Sessions with Transactions is less than 2 to 1. If less than half of your customers who get to the checkout process make it through, there may be a problem. If customers never make to checkout, check your shopping cart abandonment rate.
---
Power My Analytics and Google Data Studio
Sometimes your ad campaign reporting from Facebook Ads Manager or Google Ads can look like a god awful mess. We've found the combination of
Power My Analytics
and
Google Data Studio
to be the perfect peanut butter and jelly combination that make turning raw data from campaign reporting into easily understandable pre-built charts, graphs, and tables. Even better you can set up reports to be emailed to you and your team every month.
---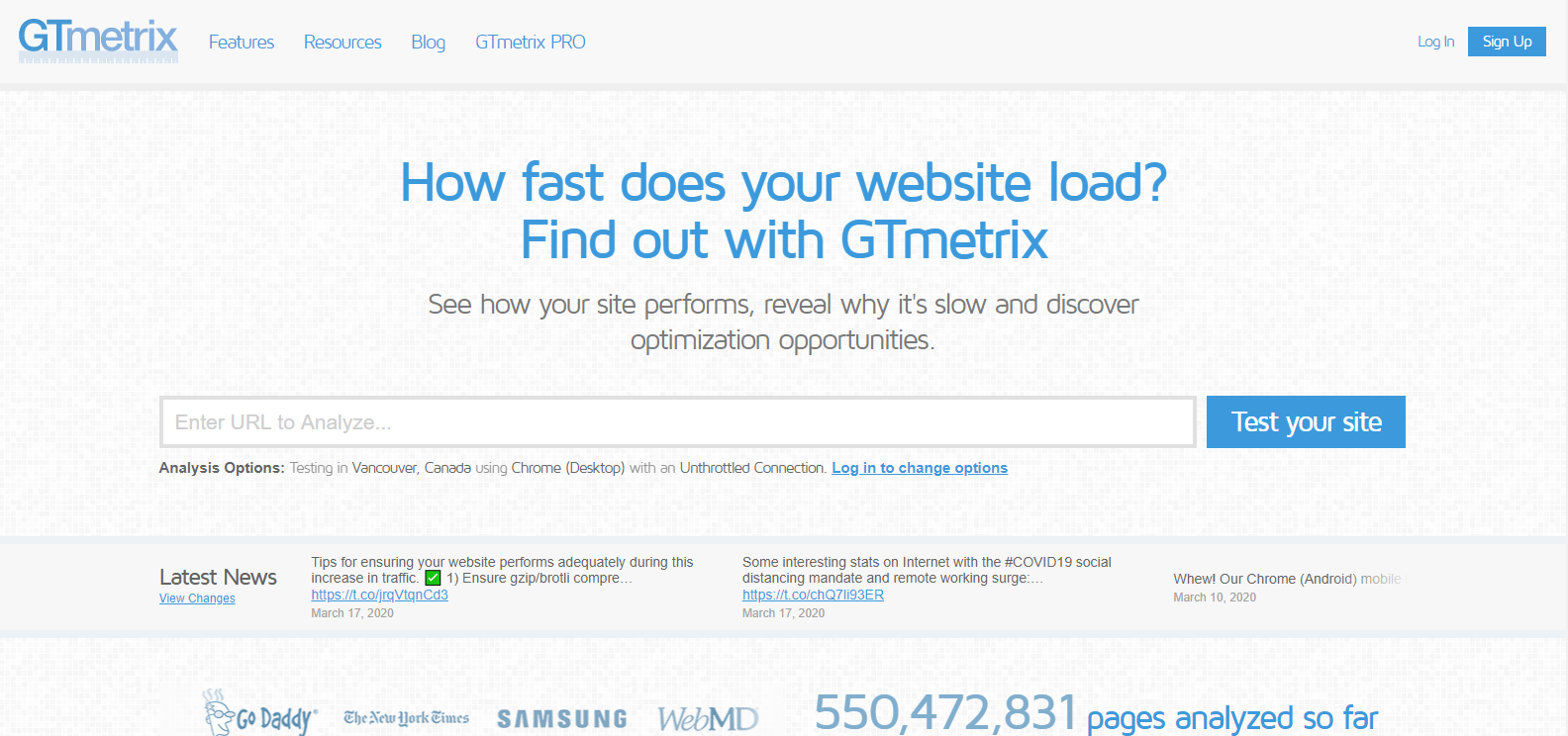 GTMetrix
While there are are many great tools for measuring page load time,
GTMertix.com
is our reigning favorite. We tend to ignore the grading as it tends to apply very broadly and is not always useful. The most important metric to consider is load time, and as long as it's below five seconds you're generally okay. We recommend testing from several different locations. If you're above five seconds at the one closest to you it's time to get to work. We particularly like the waterfall tab, which tells us the load time of every element on the page. It's easy to spot the worst offenders and troubleshoot them specifically.
---
Hotjar
We have a special place in our heart for
Hotjar.com
. It's easily the best UX tool of the last decade. Hotjar will create a recreation of a users interaction with your website. It looks like you're watching a video, but technically it's not. The first time we saw a user rage clicking a checkout button because the site wouldn't accept their payment information, we realized we'd have to spend thousands of dollars on focus group testing to get this kind of insight. Oh, did we mention it's free for personal use. Jeez, how do you get better than that?
---
Store Analytics
No matter what online store platform you use you will likely get some form of store analytics that will provide some valuable insights. Pay attention to your
average conversion rate
because this tells you how many people you need to get to your site to make a sale. Most stores will fall in the range of 1-3%, but you should always be thinking about ways to improve your conversion rate no matter where you are right now. Repeat the mantra- higher conversion rates equal higher sales. Look at your Average Order Value and see think about how you can raise it. Can you get people to buy more items by offering free shipping over a certain amount? Pay special attention to your sessions by device. How much of your traffic is on mobile?
---
Semrush (for SEO)
Semrush
is an amazing tool that can tell you virtually anything you want to know about your e-commerce websites SEO. We highly recommend using their Project Tools which will give you excellent suggestions about what keywords you should try to rank for, stats for keywords you currently rank for (and how to improve them), technical improvements you can make to your site, content ideas, and so much more. PRO TIP: Connect your Google Analytics and
Google Search Console
account to Semrush to give it more accurate information to work with.
We hope you have enjoyed this guide to Balancing Marketing and Conversion for eCommerce websites. With any luck you've got a much better handle on how to prioritize your
digital strategy
to get traffic to your site.
How do you plan to drive traffic?
Ads
SEO
Social Media Marketing
Email Marketing
What can you do to optimize conversion on your site?
Shoot great photography
Make your homepage scannable
Merchandise your best products
Tell them what you sell with Brand Messaging
Make Unique Selling Points Obvious
Review your Product pages
Make it Mobile
Test, test, and Retest
Good luck and good sales!